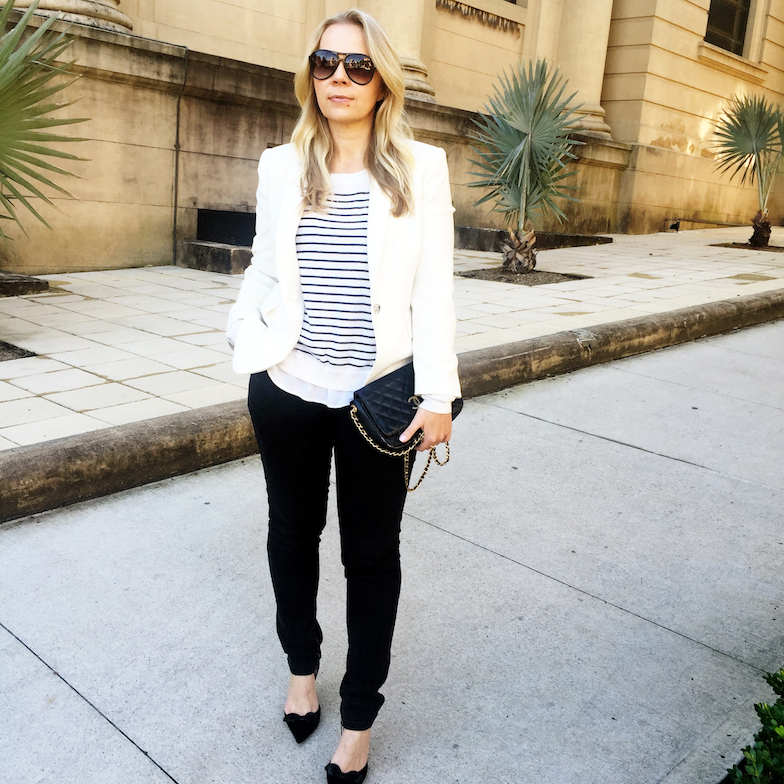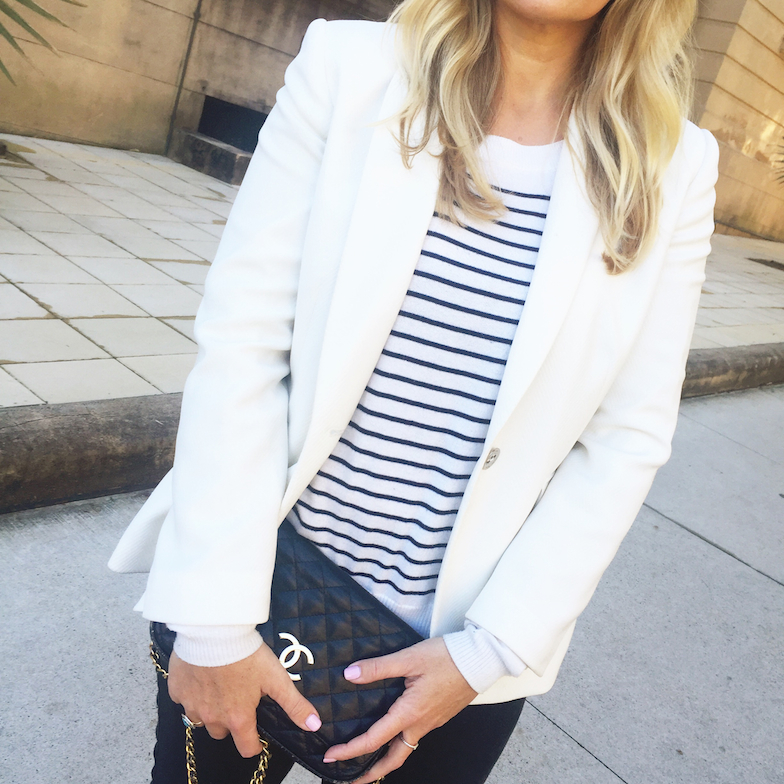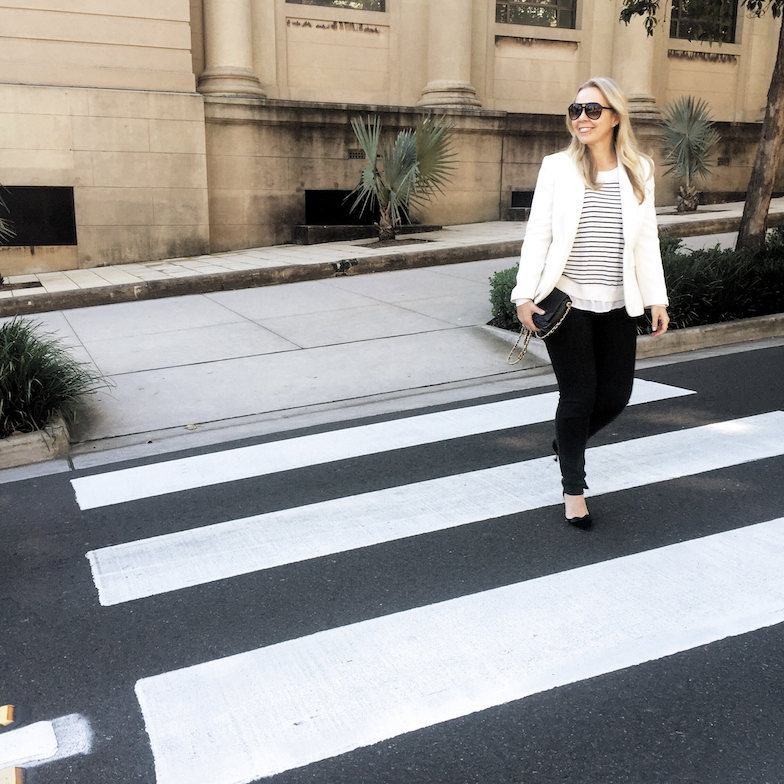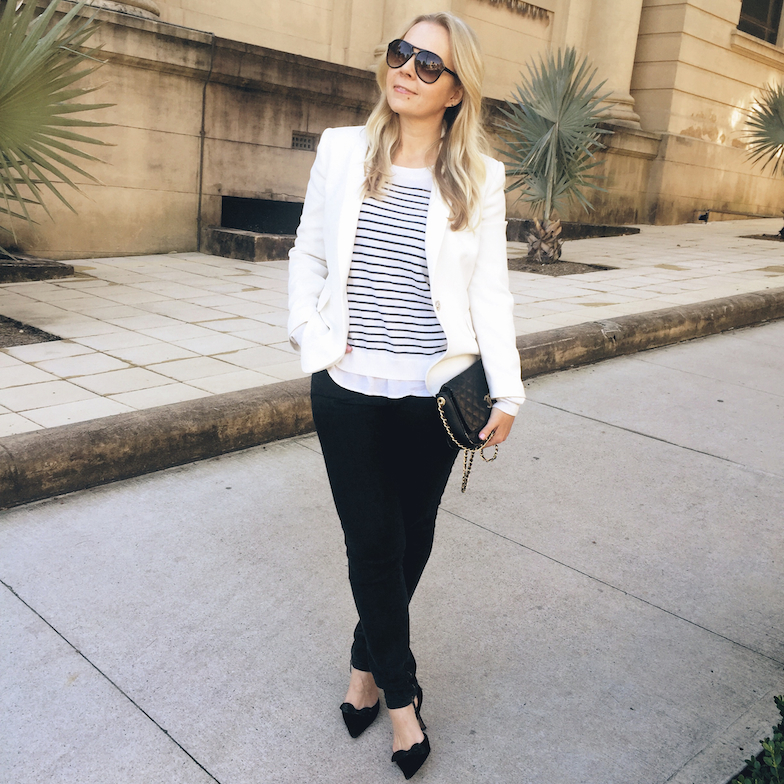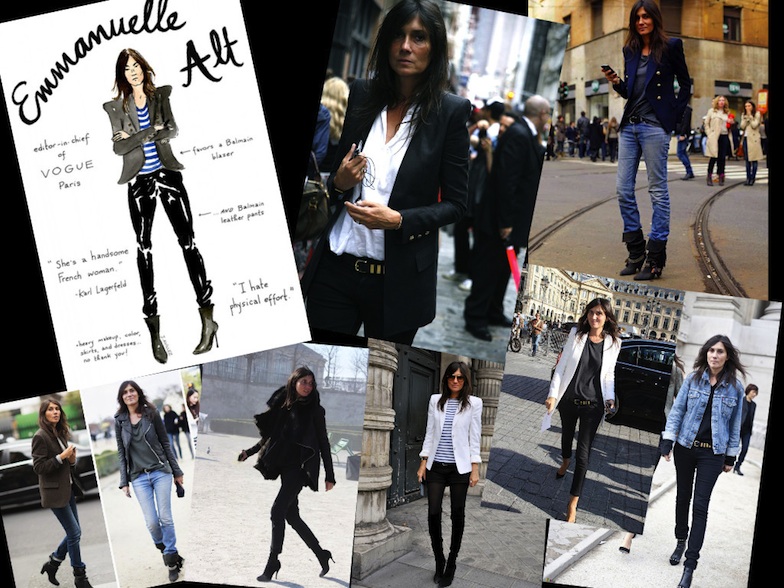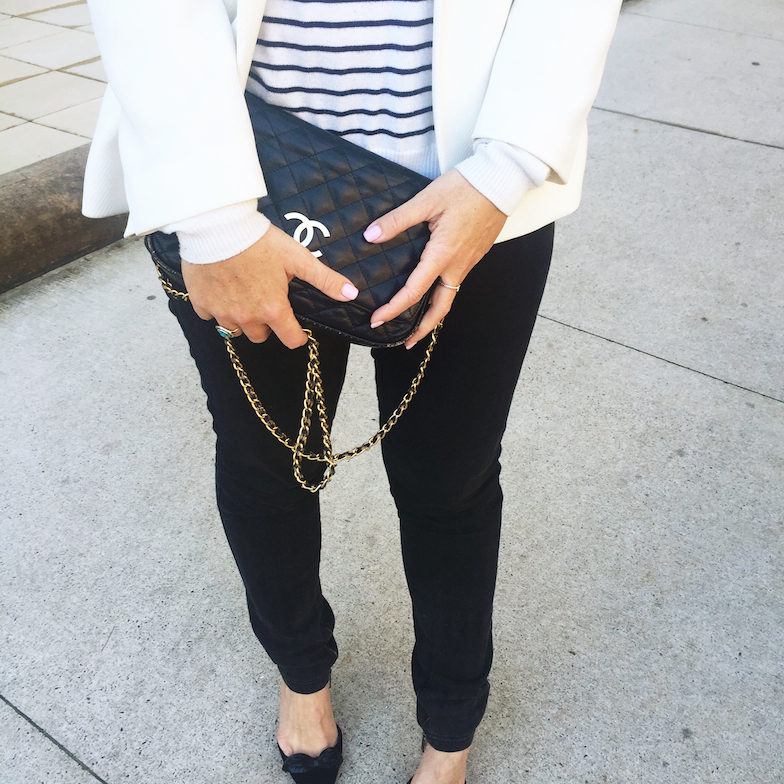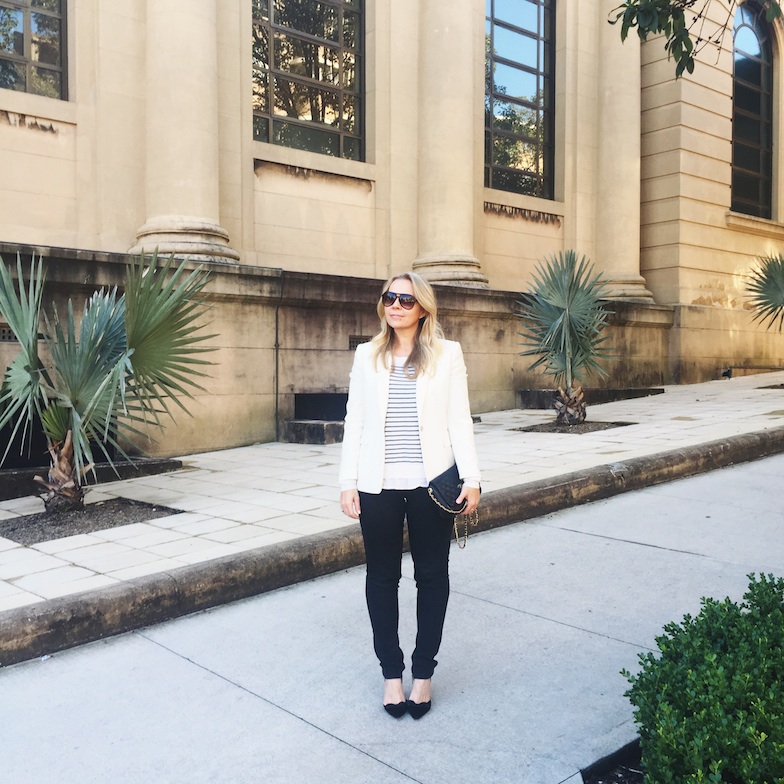 Ineffably effortless and so beyond chic, french women have a certain je ne sais quoi that le kills me everytime. Case in point French Vogue editor Emmanuelle Alt.
Her style is incredibly paired down yet devastatingly stylish. The pieces Emmanuelle chooses are the classics – black skinnies, stripe bretons and blazers so sharp they could slice bread. Simple they may be but her labels of choice – Balmain, Isabel Marant, Givenchy and Chanel demand a pretty penny and then some. I'm totally all for great investment pieces but just incase you can't quite afford the latest and greatest here's my thrifty take – c'est eco chic with 5 clever little tips to boot.
1. Study and collate – When I dig a celebrities style I collect pictures of their outfits and make a collage. This becomes a great reference point for creating your own version.
2. Get thrifty –  My entire outfit in this blog post is thrifted. Calvin Klein white tux – $10 from the Salvation Army in Brooklyn NYC. Yep $10. Stripe breton top $12 – Salvos Stores Sydney. Black Karl Lagerfeld black Skinnies $15 Salvos Stores. Chanel replica $10 Salvos Stores and the piece de resistance my $840 authentic Manolo Blahniks that I picked up at the Salvation Army on 46th Street in Manhattan for $25!!
3.  Pick great quality classics. The thing I notice time and time again with celebrity style is that most of it is incredibly simple. Denim, leather, lace, black, white, stripes, camel, beautiful boots, heels or flats in timeless styles. You don't have to spend a fortune on these items. Hit your local thrift store with your inspo pics or collage in tow and hunt for those pieces -copy what you see in the images. You can easily do it with second hand. I do
4. Look expensive in 5 seconds flat. Do as the magazine editors do and drape your jacket over your shoulders, wearing it properly is overrated 😉 A killer pair of dark shades is another trick, they add instant chic. Keep accesories to a minimum and let the classic pieces speak volumes.
5. Never fail fashion – stick to a color palate of black, white, khaki, grey and french stripes. Let your hair dry naturally and add a few simple waves or texture. You'll look incredible and important without even really trying
le loving that!
#EcoChic