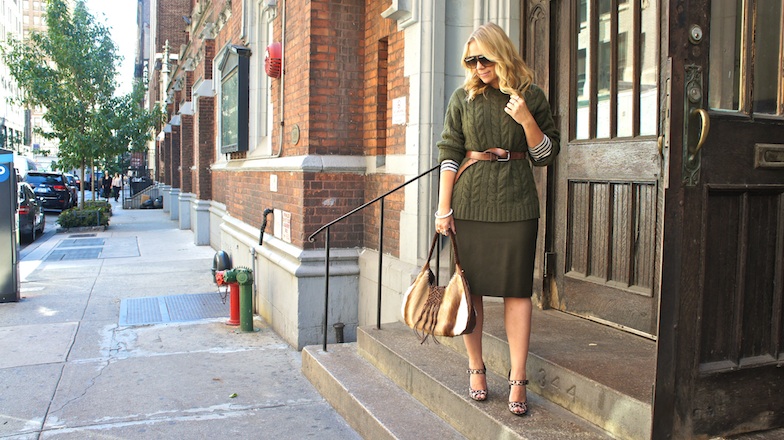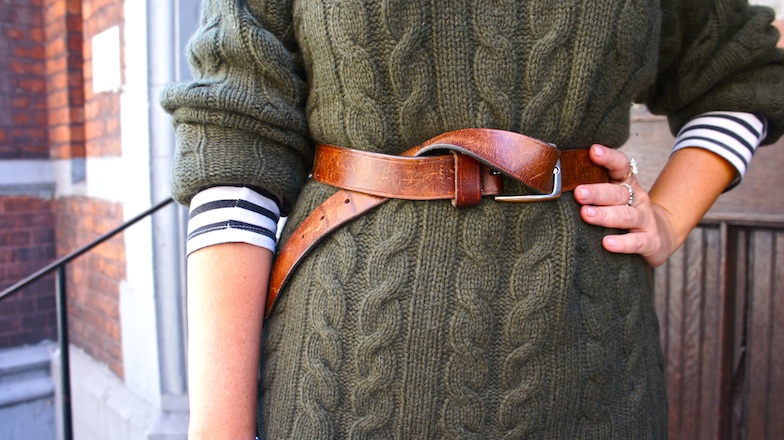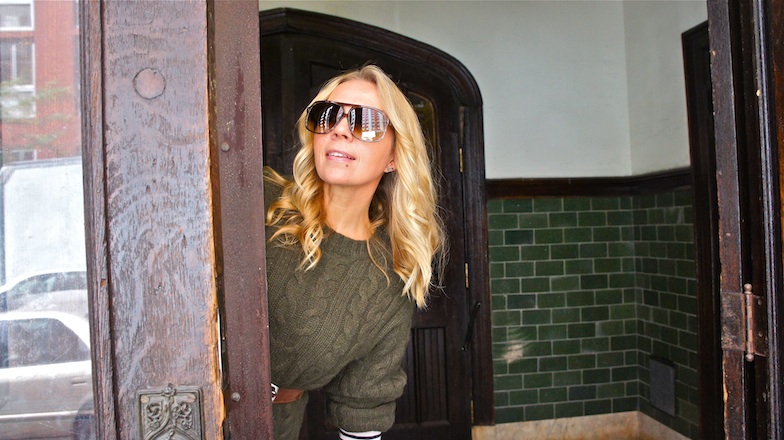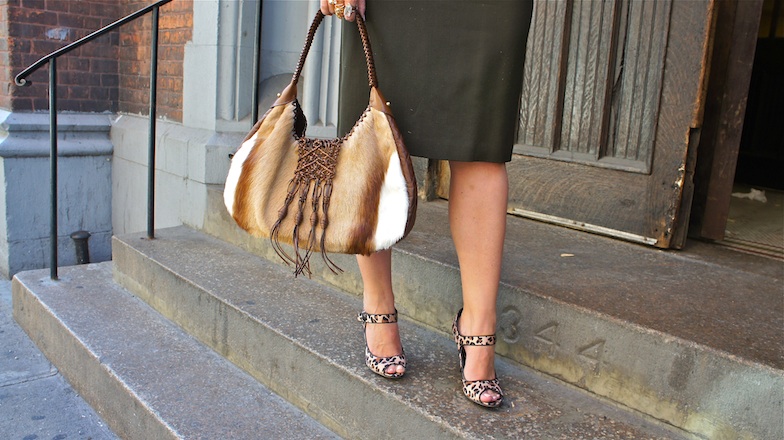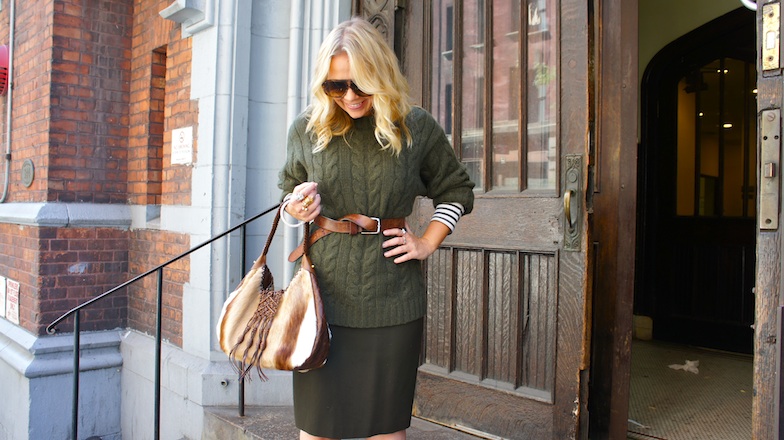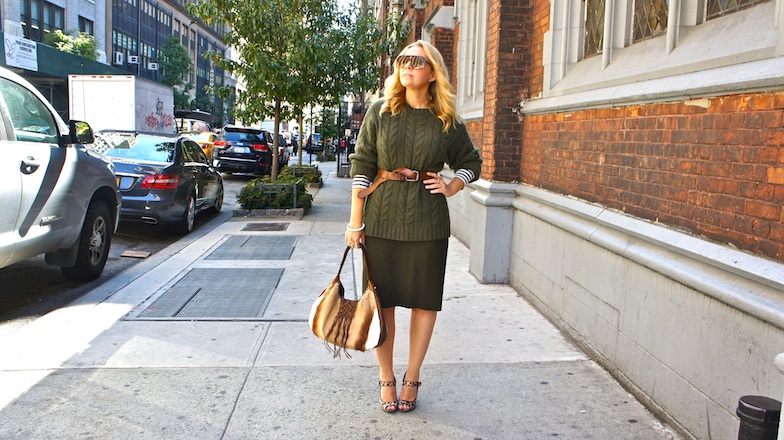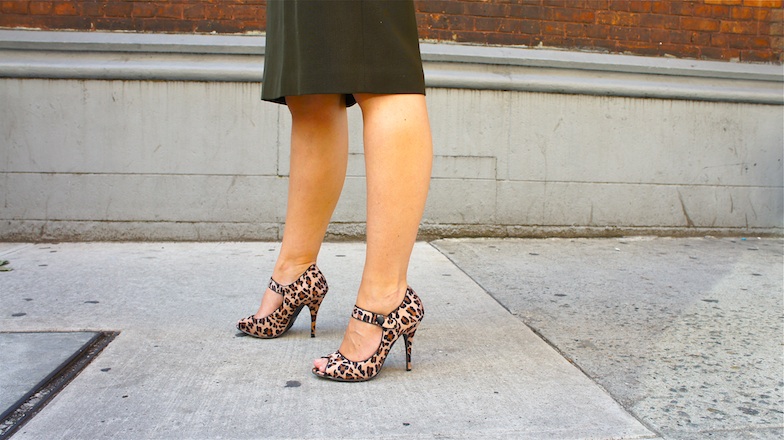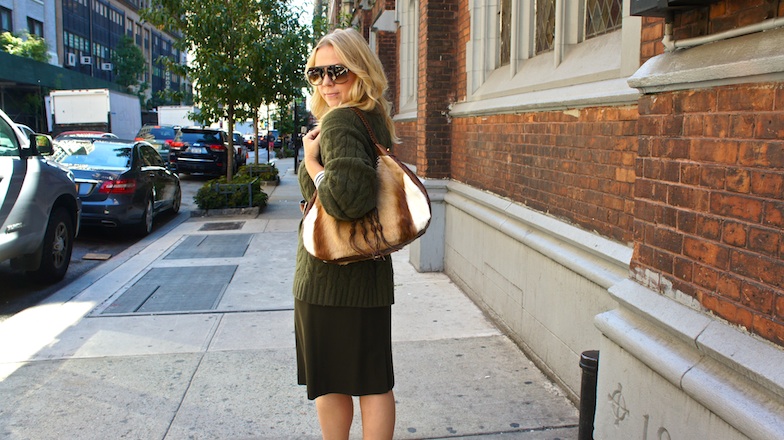 I love a challenge, especially when it's with clothes. 'That's a daggy old jumper, time to throw it out'
'I can't do anything with this beat up belt'
Oh really!!?
What if the men's jumper is a stunning shade of olive green, 100% cashmere and feels like you are wearing a cloud.
What if the belt is butter soft with a wonderful story woven in.
It's fall in NYC, the air is a little crisper and you can start to layer like a boss. Let the true fashion olympics begin.
I'm normally such a jeans and tux girl but I'm really starting to see the merit in a more ladylike muse.
Here's my tips on how to achieve a look like this and make yourself look taller while you're at it – you're welcome!
PS minus the amazing bag created by hand craftsman and vintage master Anthony Luciano, I did it all with thrift.
Most of which was from Housing Works great Buy The Bag concept in Brooklyn – yep $25 for as much thrift as you can stuff in a bag! #JustSaying
1. I'm vertically challenged so my tip to look longer is go tonal on the body. I love army green – it's such a chic color and by keeping your skirt and top in the same palatte you give the illusion of length. Try some texture on the top half – it adds interest to the block color. A pencil skirt is a timeless shape and I found this Italian wool wonder for $5 at the Salvation Army on 46th St.
2. Tip 2 for length – meet your new best friend – the cinched in waist. Don't worry about why just worry about how long you will look…again you're welcome and let's talk about how gorgeous this vintage belt is. Rather than doing it up the convential way – why not try a chic knot instead. Go on, be crazy. 
3. Don't discount the merit of a man's jumper on a wo-man. Push up the sleeves and let it ever so gently hug your form, its the garment equivalent of a good boyfriend. Look for great quality fabric like this devine cashmere offering.
4. Add in some fashion eye candy with a contrasting stripe just peeping out from underneath
5. You've kept it tonal so don't be afraid to add a pop of jungle juice on your feet. I even found the shoes at Housing works.
Something super cheap with a serious dose of handmade chic [the bag – I mean!!!] that's how you #FashionHound
More on Anthony Luciano soon x
Sunglasses by Vintage Frames 
A big thank you to Jenee for taking these gorgeous pics