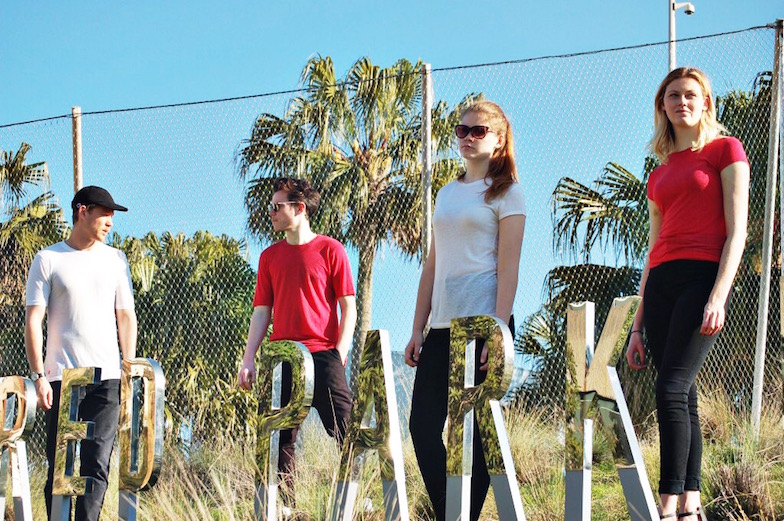 It's a big claim but let me tell you this humble item absolutely lives up to the title!
Not only is it the greenest but for reals it actually biodegrades back into the earth, so its completely zero waste too.
Oh and co founder Graham Ross actually created the fabric from scratch without any previous textile or fashion industry experience.
I was fortunate enough to meet him recently in Sydney at a Fashion Revolution pop up and we connected on so many levels, sustainable fashion kindred spirits I feel.
We both have a television background and a burning passion to make a difference to the planet but I am absolutely in awe of Grahams creative and ethical genius.
Check out my interview with him below
Faye: We had a great chat at the Fash Rev Pop up in Sydney and I was so taken with your passion for what you do, what was it that drew you to this new ethical purpose?
Graham: My passion came from an unlikely place. A couple of years ago I realised there was a pile of sports event finisher shirts filling up my wardrobe. I had tried wearing them but the fabric and cut of the shirts were really uncomfortable. This prompted me to do some research about the materials my shirts were made from. I was shocked. I had no idea how much impact the clothing industry had on the environment. I thought at the time, if this is the state of my wardrobe and there are 7 billion people on the planet…that's a lot of wardrobes and a lot of impact. This coincided with a marathon I ran over the Great Wall of China. It was a life-changing experience. I was working in the television industry at the time and we'd just moved our family overseas for my wife's career. I was looking for a new focus, something more meaningful, something that might leave some kind of legacy for future generations.
Faye: Give me the elevator pitch for Kusaga and where does the name comes from?
Graham: Kusaga Athletic creates future fabrics and sustainable lifestyle apparel for run, yoga, gym, outdoors. Our business model is based on the principles of the circular economy and our actions directly reduce the clothing industry's impact on the planet. Most importantly, our garments give consumers the ability to play a part in mitigating climate change.
Choosing a name for any company is a hard decision, but with two co-founders, you can find yourself going round in circles. After going back and forth a few times, in desperation, we ended up searching for words in foreign languages. Kusaga means 'recycle' in Swahili. We liked it for its strength, plus it has a nice rhythm, and it's not gender specific.
Faye: You are the creator of the greenest tee on the planet, um that's pretty amazing, why is it so green?
Graham: That sounds really cool when someone else says it. After we were successful in making a 100% plant based fabric – ECOLITE, we wanted to make a product that would illustrate the environmental benefits of the material. The humble t-shirt seemed an obvious choice. There are around 2 billion t-shirts sold each year we discovered it can take 3000 litres of water to manufacture a single cotton t-shirt, which seems like a lot right? It's actually a huge amount – the equivalent of 38 bathtubs full of water!
Our Greenest Tee uses less than 1% of the water needed to make a regular cotton t-shirt, and requires 80% less land to grow an equal tonne of fibre. Importantly for end of life, it's also compostable. So less water, less land, and back to the earth.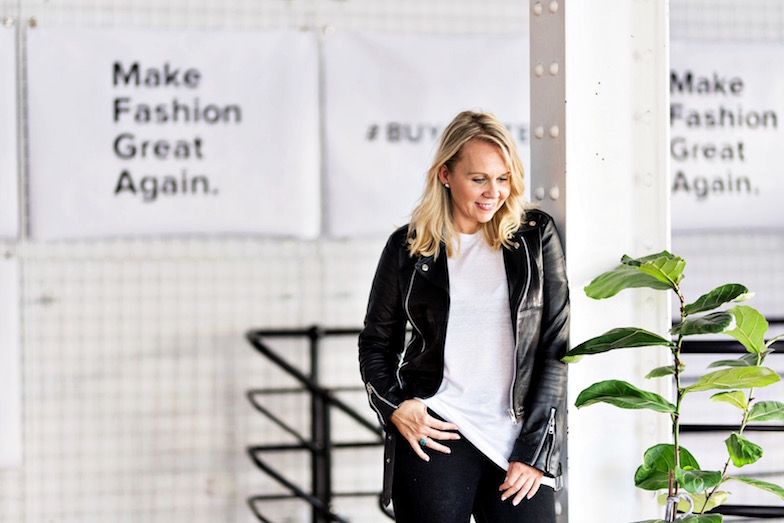 Faye: What are your biggest priorities with the brand and what are you most proud of so far?
Graham: What I'm most proud of is that from a crazy idea by two blokes with no knowledge of the textile industry, we created a range of fabrics that directly helps people reduce their impact on the planet – without sacrificing performance or comfort. I believe it is up to businesses and producers to create products that are sensitive to finite natural resources, reduce the impact of climate change and at end of life can be reused, recycled or returned to earth.
The biggest priority for Kusaga Athletic is educating people about the benefits of making smarter, more informed choices with their clothing and in validating the plant-based fabrics we have created as viable, commercial alternatives to cotton and polyester. We are constantly researching, refining, and developing our fabrics and garments.
Faye: I have seen in my own work, that there can still be a stigma attached to ethical and eco fashion, that perhaps its just tree hugging hippies who don't really have a handle on style, what do you say to that?
Graham: Designers like Stella McCartney have been creating ethical and sustainable luxury fashion for many years. Of course, many other designers have also created eco fashion products. I think there is a willingness and interest to work with sustainable materials but the speed of uptake for Eco-fashion will be driven by both designers and consumers. Education and acceptance is important for both groups. 
New textiles present new design opportunities and styles. The pioneers of these fabrics are the ones with a mindset that is about looking out, broader thinking that is more than the latest thing on the runway, which is how we got into the whole fast fashion mess in the first place, blindly following fashion trends without stopping to ask: Who makes my clothes? How are they made? What are they made from?
I believe consumers want to make informed choices, and more and more we will see those choices reflect their personal philosophy – whether that's about the environment, social change or how they express themselves.
Faye: They say nothing worth having is easy, what have been some obstacles for you along the way?
Graham: What's the other saying? If it was easy anyone could do it? For us, having limited knowledge of the  clothing industry meant that we were blissfully unaware of just how challenging it would be to take on an established industry. We had a ton to learn, but we learnt fast! There are lots of moving parts to clothing manufacture and we were producing our products in several different countries, so controlling our supply chain was at times a real challenge.
One upside for entrepreneurs coming into an industry on a steep learning curve is the lack of constraint. You don't know the old processes or the usual way of thinking. That knowledge is a double-edged sword. I believe great change is created with fresh thinking and looking for new directions. It's hard to be held back by the status quo when you don't know what the status quo is. Often you hear 'it can't be done' or 'we don't do it that way'. My response is always, 'why not?'
The greatest obstacle we faced was during the production phase of our Kickstarter campaign for The Greenest T-shirt on the Planet. Our production partner had to close their business and we were left with rolls of fabric and hundreds of unfulfilled pledges. Often production schedules are booked out months in advance and we were pushing the delivery deadline already. We had to find a factory that could quickly create samples for approval and then move directly into a full production run – all in another country. We also had to tell our wonderful supporters that there would be a delay in delivery. Rather than make up excuses and blame others, we decided to let everyone know what had happened but also take the chance to be very open about the challenges we have had to overcome during the company's lifetime. What we learnt was that our community didn't mind that there was a delay in delivery, what they wanted to was to share in the journey and be part of the experience – upside and downside.
Faye: Aside from fashion, how has sustainability morphed into other aspects of your life and what are your tips for people who want to become greener?
Graham: Being one of the voices for a more sustainable planet has become a huge passion in my life. I imagined a scenario in the future where I'm sitting at a family gathering, with hopefully with some grandchildren, and realising I had done little, if anything, to leave the world in a better place. I didn't want to be that person. The one who had a chance to do something about climate change, and didn't act.
For me, in the beginning I had to be continually aware of my lifestyle, but after a time, like all habit changes, you don't even notice how you behave. Simple things, like skipping the packaging when you buy things, carrying around a reusable water bottle or a keep-cup for your coffee is a new normal for us. At home, my daughter has a 100% plant-based diet, and gradually the rest of the family began to eat less meat and other animal protein, while discovering new foods and new ways to cook old staples. It's been an amazing discovery we've shared as a family.
To read more head to the Kusaga athletic website