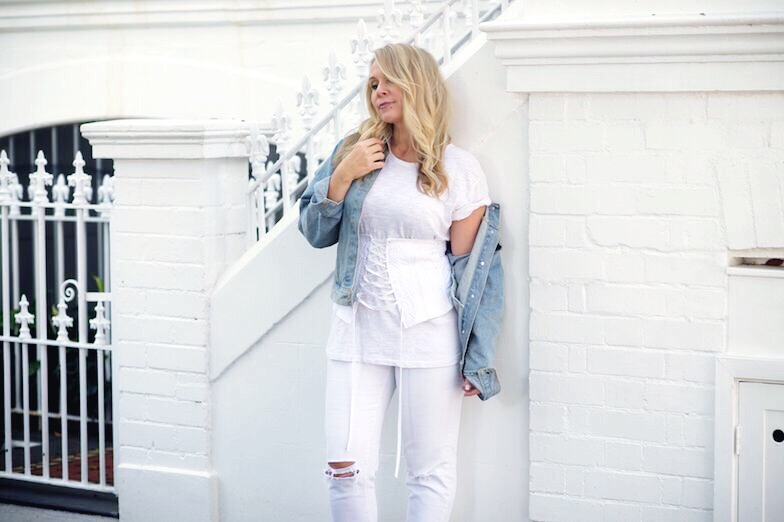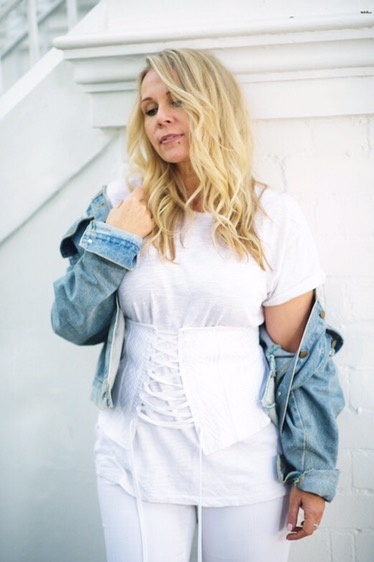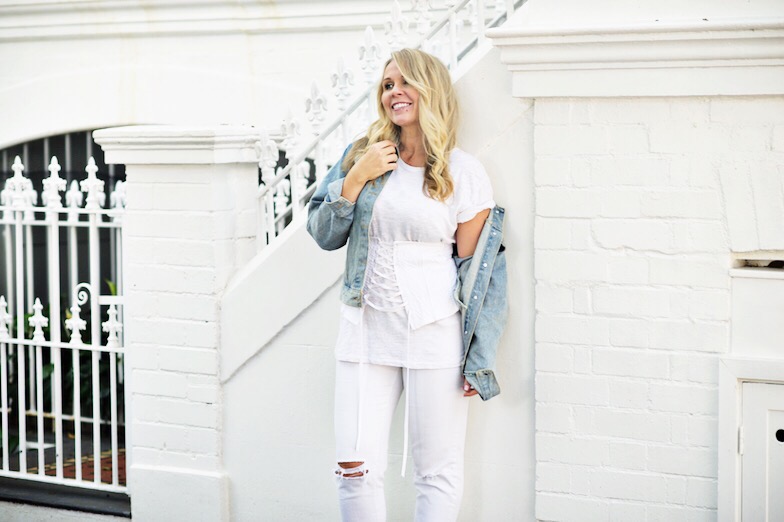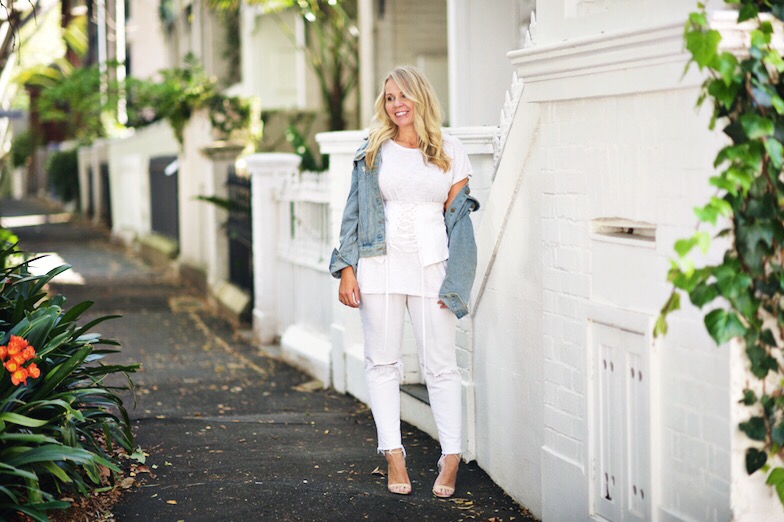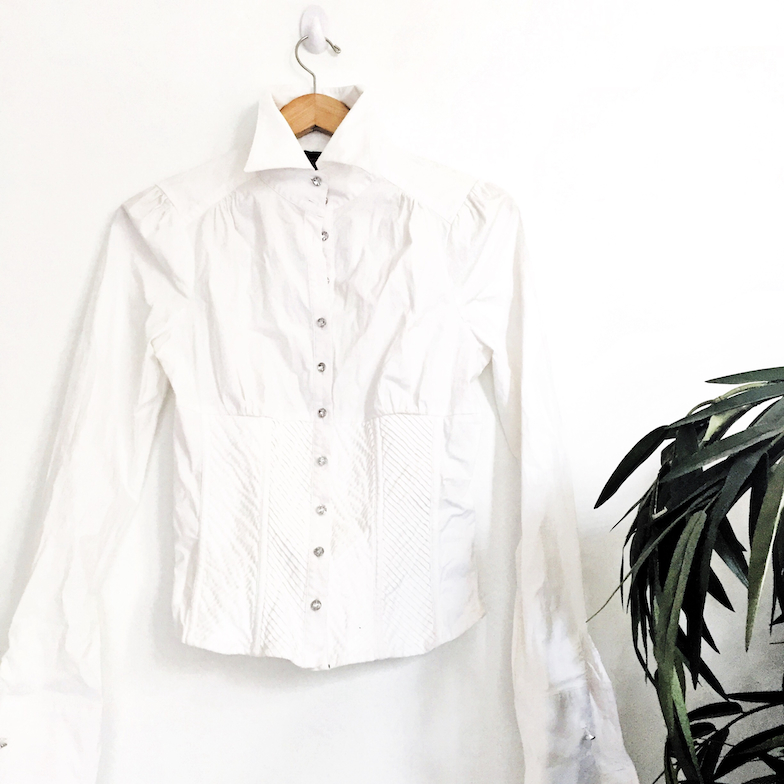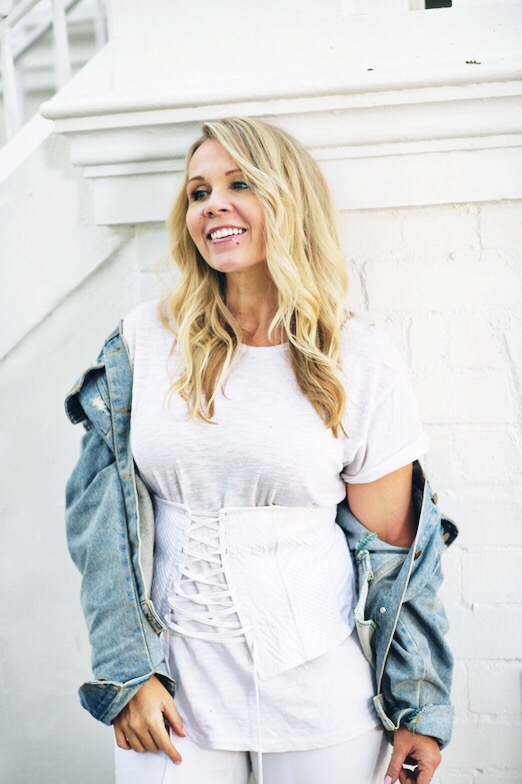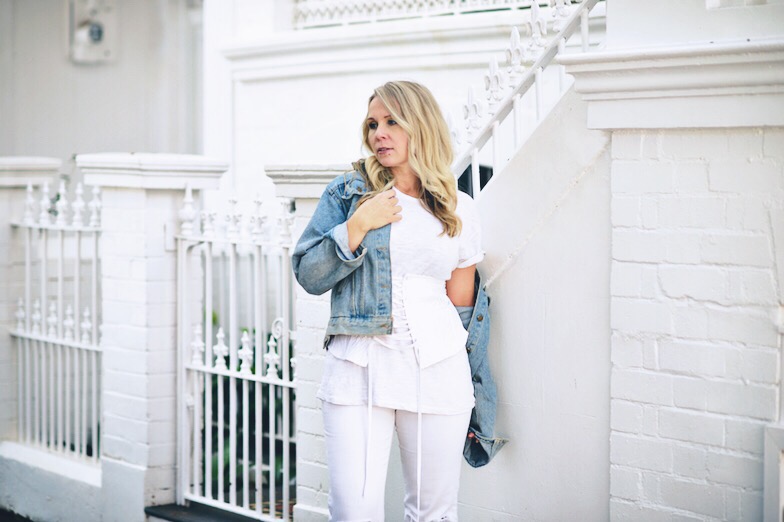 Of CORSET it is only it didn't cost me a fortune!
Fashion seems to be all about the corset belt currently and I can't get enough of it, I just love the modern take on an old world muse.
It's roping everyone in from Prada to the kardashian K-amp and I'd like a little cinching in too please.
Whenever I see these high end and high priced trends I like to challenge myself to see if I can recreate it with thrift, I mean do we really need to spend thousands?
If you look at Kim's outfit it's essentially just a worn in white tee and a white cotton corset. So I headed to Salvos Stores to see what I could find and while there were no corsets that day I scored something even cooler. A $5 white collared shirt that actually had a corset feature to it (pictured in this post)
I knew just the woman to help bring my idea to life.
Note to self…if you are a keen thrifter get a great dressmaker on speed dial, they can help you reinvent so many pieces and it will still be much cheaper than buying the designer trend new.
Jan basically cut the corset feature off the shirt, removed the shirts buttons and added a few more button holes into the mix that was already there to create the corset base. I went searching for some shoe lace cotton pipping which I found at a craft store for 74c/metre.  We threaded the pipping through and et voila the coolest cotton corset for less than $20!
Jan also suggested that a good dressmaker could make a corset template out of a men's tuxedo shirt. Thrift around for an actual corset or hit second hand portals like gumtree to see if they have one.
To complete the look I found the dreamiest worn in deux et machina tee in the men's section for $5
A great fitting pair of white jeans (I went up a size so they weren't too white and tight #scary) The jeans however had the ugliest crop flare that just doesn't suit my vibe. I had Jan taper them in the leg which took her a New York minute and I customized them with scissors and tweezers!
Denim jacket $15 and nude heels $10 from Salvos Stores too
I don't mean to blow my own fashion trumpet but seriously how close is my look to the one on Kim, naturally I chose to wear pants though
And when some one asks you if it's Prada you can say of CORSET it is
Or tell them the crazy cool eco truth that you kicked pradas butt and did it yourself  baby
#fashionhound
Photos by Bryan Marden