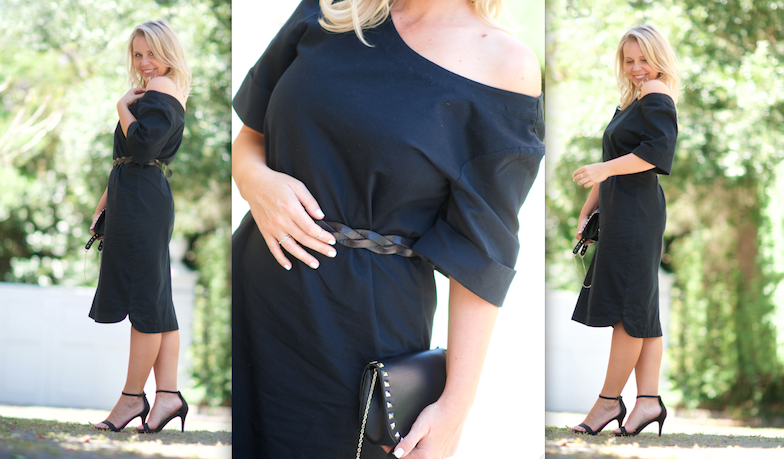 T'is the season to overspend! But seriously you don't need to fork out a stash of cash to look cute.
So here's 5 easy ways you can get your festive fab on in a flash…. minus the freak out.
SHOULDER SLIP – One of the simplest tricks in the style book. Tip a dress or top to the side for instant sexy. There's something about that nonchalant drape that just does it for me and definitely delivers a dressy touch.  
ADD BOWS – A fantastic way to makeover a simple pair of stits is to add bows to them. I just used black satin from my local craft store. Bought about two metres and cut it in half. Looped it under the back of the strap and threaded it around. I like them extra long for more drama! Try different colors and also clip on earrings are perfect for 'frosting'.3. WORKOUT YOUR WARDROBE – reinventing clothes in unexpected ways is a definite fave of mine. This is a dress worn as a top with a pencil skirt (love the little peak of it at the hem) teamed with a scarf beneath a belt to bring it. Really gives new life to 3 different items. Why not have a play in your closet and see what you can create with what you already have.   4. PEARLS OF WISDOM – Being pretty never has to mean spending all your pennies…the wise customise! I added a new feel to a forgotten blouse by hand stitching on a string of pearls, following the curve of the ruffle. You could also pull apart a necklace and glue gun on individual pearls to a t-shirt, jeans or even shoes. Another idea is to find a fun new use for broken necklaces like I did below – break them apart and get your glue gun on…crazy easy.   5. BECAUSE BROOCHES!! – I know I bang on about them all the time but c'mon they are for sure one of the accessories superstars. I pin them on bloody everything, from jackets, skirts, corsets and of course… bags and shoes.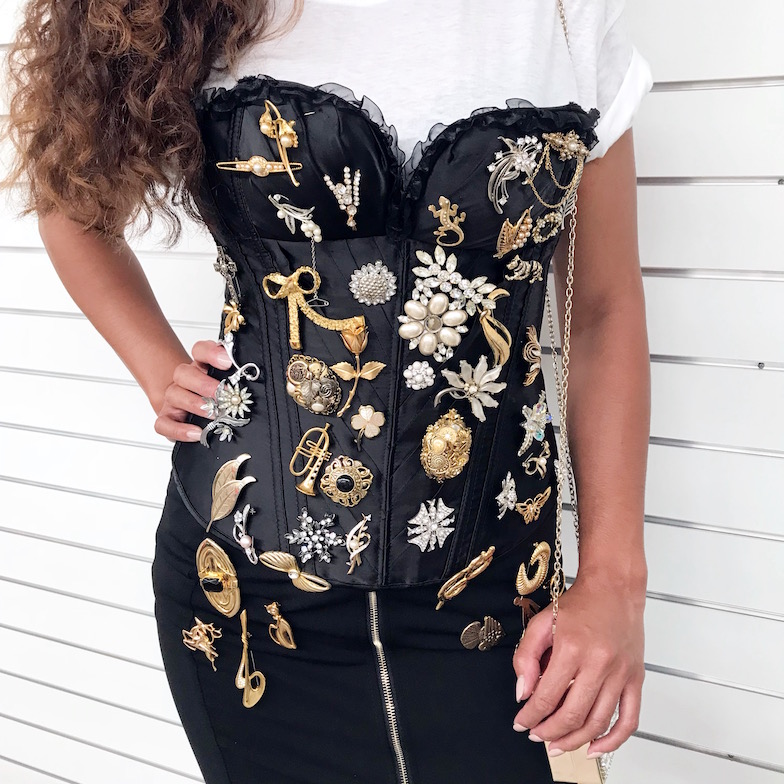 Every time I head to a thrift store I pick one out to add to my collection. Such an easy way to elevate an outfit in a New York minute. All these ideas are, try them out and see for yourself.
Love to hear your tips on how to get your fab on in a flash.
Merry THRIFT-mas
-Faye x