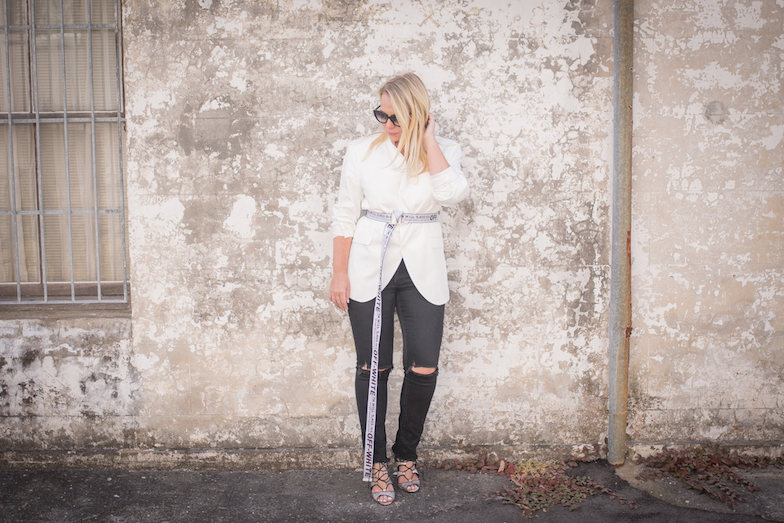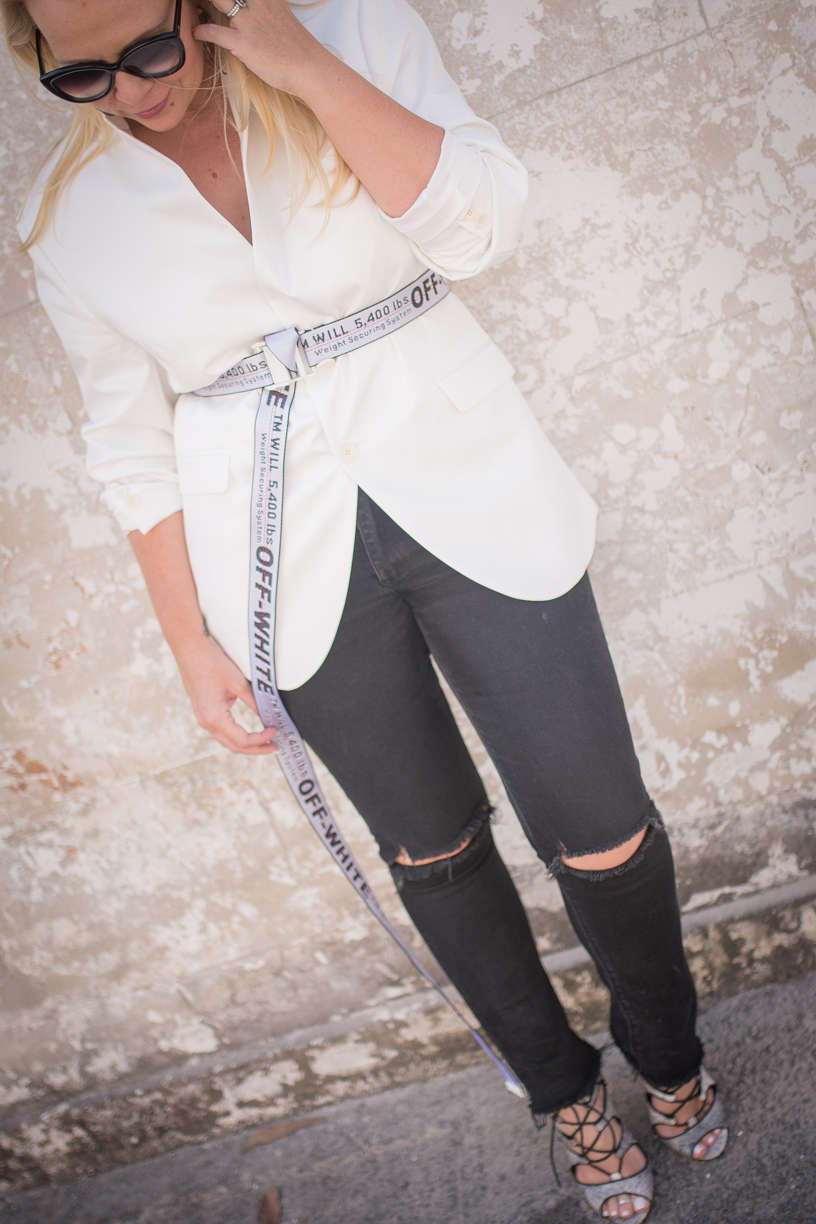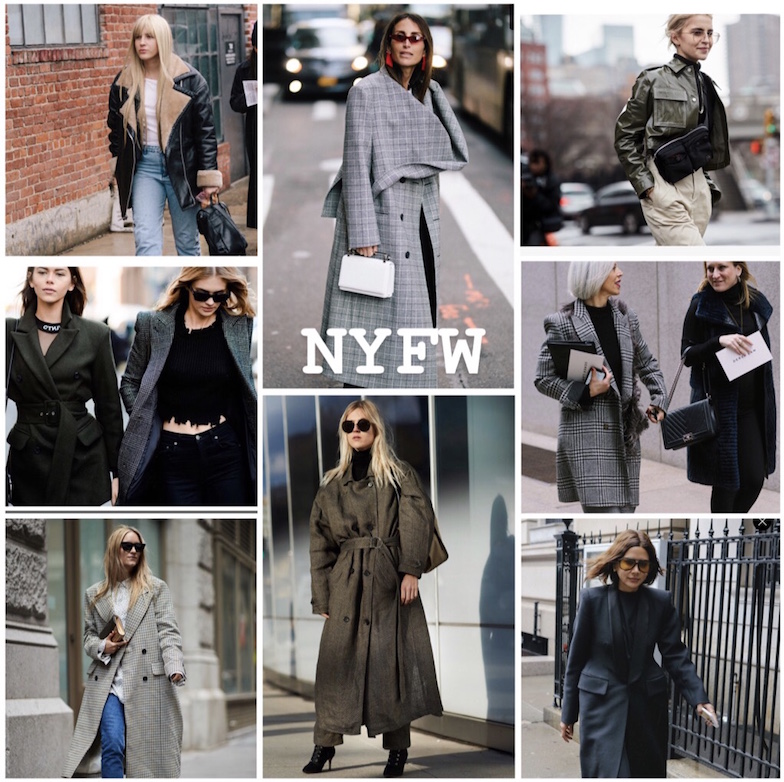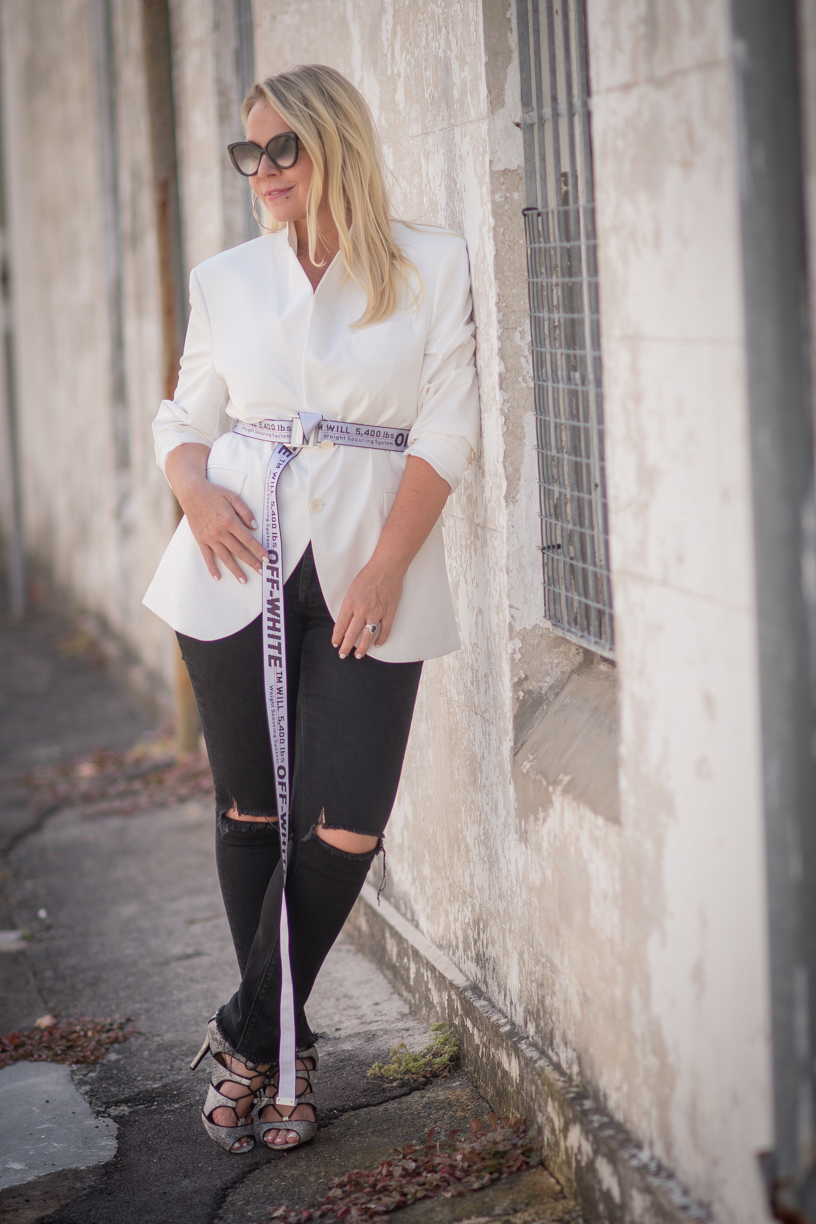 Menswear worn a woman's way…oh boy is it wonderful. I for one, am a repeat offender…it's just such a cool look and super easy to achieve.
It's a fashion trick that I return to, time and time again because it's relaxed but with the right amount of raunch, am I right ladies!?
The white jacket I'm wearing in these photos is actually my husbands wedding tux reinvented. A quick push up of the sleeve and cinch of the waist with the seasons extra long belt trend and you've got that 'one of the boys' edge. In a time when women are taking back their power, it's even more fitting (pun intended). I love how fashion can be a talisman for political and global relevance – we want how we feel to speak volumes in our style. Hells yeah!
If you don't have a male's closet to raid, hit your local thrift store instead – they are absolute haven's and the men's section is where it's at. You can absolutely shop all the trends and do your bit for a sustainable planet to sister. Here's a few ideas to get amongst it man…
Top 5 Tips to Borrow From The Boys 
EXPECT THE UNEXPECTED – Just because it's a jacket or a collared shirt doesn't mean it has to be worn that way. Try it off the shoulder, backwards, as a corset top over a tee or fitted blouse – Reuse, Reinvent, Remaster!
 THE BIGGER THE BETTER – Throw the sizing label out the window and wonder at the cool style to be found in your local thrift store.Vintage tux jackets, on trend tweed, rock tee's to die for and of course the classic white collared shirt (Check out my collage above for just a few of the way's I've worn mine to date)
CUSTOMISE – Slice, dice and decorate. Embellishment and eccentric deconstruction isn't a trend that's going anywhere soon. Patches are a simple place to start, check out your local craft store or online portals like ETSY and see what you can find. Rather than the usual bright, kitchy offerings I look for black, white, yellow or tonal sequins and beading to elevate my pieces – for me it just looks more expensive and fabulous, but totally go bright if it's more your vibe. Most of the patches I've bought are a minimal spend and all you have to do is iron them on. 
TAKE IT TO THE STREET – Is anyone else addicted to street style, like I am? Oh the hours I've lost…but also the money and clothes from landfill I've saved. I study the trends and then I think about what I already have or could thrift to replicate what I see. A simple search of '2018 street style' or 'NYFW' will deliver you a serious dose of inspiration. 
TEXTURE – Luscious layers, contrasting fabrics, cinched in waists with belts or bows, mixing and matching prints, a preloved brooch cluster on the collar – all incredibly easy ways to take menswear next level. It adds so much interest and one of a kind cool plus it's the simplest trick in the book to look expensive without having to break the bank!
'Dude looks like a lady' yo!
#FashionHound