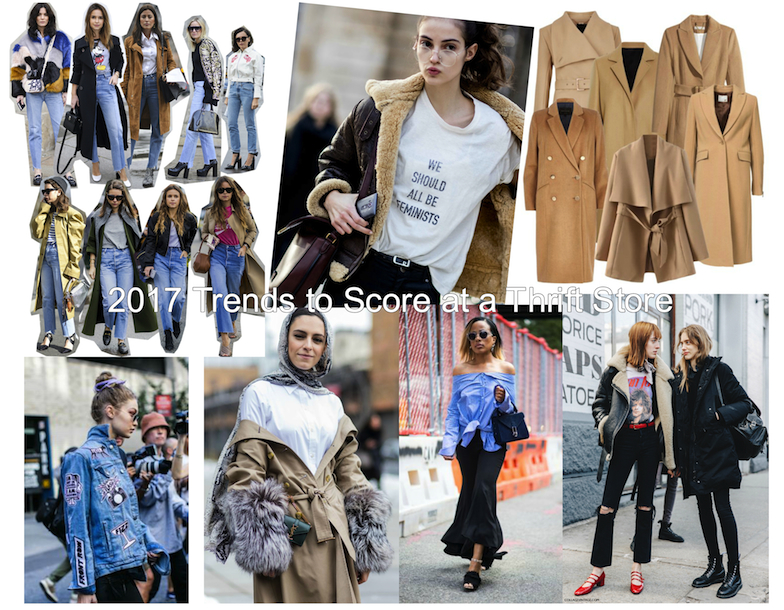 FIVE 2017 TRENDS YOU CAN SCORE AT A THRIFT STORE 
1. Tees that Talk – Rock Bands, lifestyle brands (Hilfiger is huge right now) slogans that make you stop and think and bright graphics are all having a moment on the humble t-shirt this season and you know where I always find the goodies? In the mens section of a thrift store, they are oversized and wonderfully worn in. Etsy is a great spot to hunt too, lots of small independant sellers with great one of a kind stock.
2. Cold Shoulder – strapless and off the shoulder shirting seems to be everywhere, a lot of the expensive brands are making specific items to suit, but seriously just grab yourself an oversized men's stripe shirt or plain white button down from your local thrift store and create the look with your own two hands. A super simple way to start off with this trend is to undo a few of the buttons of your shirt and pull it down to sit just so on your shoulders, et voila instant chic and slick new look for a classic staple.Check the collage for inspo.
3. Raw and ragged – It's ironic that unfinished hems and ripped denim is some of the most coveted and expensive fashion items that are trending right now. Why should we have to forkout a months paycheck for a look that is essentially prelovedin appearance!?
My tip have a crafternoon – check out my video for DIY inspo  
4. Patch Things Up – The 70's called and they want their jeans back! Patches are popping up everywhere on denim, the back of jackets to handbags and beyond but the designer versions are so expensive. You can quite often find patches in thrift stores, at markets, craft stores or even on ebay and etsy -grab yourself a bunch and big things up your own unique way.
5. Coat Tales – We are coming into autumn/fall in Australia and its time to bring your jacket game – I especially love a camel coat moment, the color goes with everything and looks so chic. Puffer jackets are big this season too, try a white button down and a bralette underneath for a great layering look with texture and interest. Start searching thrift stores now as winter stock is already being put on the racks – just like the high street stores. My Tip is to up the ante with the trimmings. Switch out average buttons for beautiful military inspired gold offerings. If it's heading into spring where you are, try this with a light trench or a collared shirt.
PS Use my collage as an eco chic reference point – snap a screen shot and take it shopping with you. That's what I always do and it really helps me fine tune my hunting.
Happy thrifting
#FashionHound