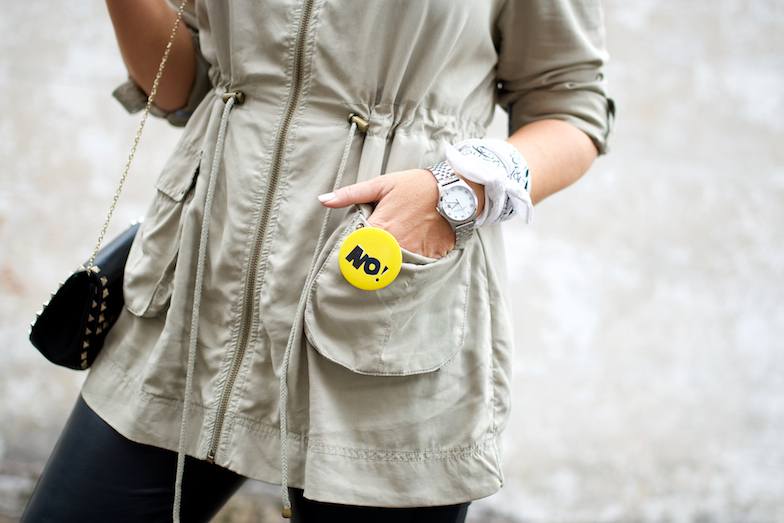 *Ewww NO that's old!
*How can I look cool or current in second hand?
*People will think I'm poor if I choose pre-loved!
*Op shop clothing smells!
* I can find it cheaper brand new on the high street!
*None of my friends are doing it! They'll see me as daggy.
*It's too overwhelming, how on earth do I know where to start?
All questions and concerns I constantly hear as an op shop stylist and to be honest some of them I even asked myself when I began my sustainability journey. So I totally feel you.
However, determined to not be defined 'by the label' I set about carving my own style path and I've made it my lifes' purpose to convince you that you can too.
I truly believe that second hand never ever has to mean sacrificing style – I've found so many ways to make it look super chic, high fashion, fabulous and relevant, very easily too.
The other element that really helped me switch my mindset was focusing on all the positives I could gain from choosing pre loved – (saving a stack of money, styling one of a kind looks and empowering local community, just as a start) – rather than ruminating on the perceived lack, or what I was missing out on, which really isn't anything I can think of. In fact I've been blessed with so much more, in all areas!
So let's turn that eco fashion frown upside down and see if we can't decode the ick factor around thrift shopping!
Ewww NO that's old! Ok so a quick look at the hottest 'IT' labels and you'll see that so many items are being made to look this way – worn in, distressed and 'prelove-afied' and trust me you'll pay for the privileage too. The item descriptions read like a bad real estate ad 'renovators dream' anyone!? Honestly so many of the items in a thrift store are actually in better nick than these high end hybrids

So my point is, being a fashion snob is kinda pointless these days because so many of the fashion houses are trying to make their items with this built in one of a kind cool. Highly Influenced by the punk movement of the 70's. I say be anti establishment like the punks, save your money and source yours from a thrift store – check out how I do it here remember too that a lot of what you buy 'new' has been tried on by hundreds of others, borrowed, worn on photo shoots, bought and taken back…it may not be a 'bran spankers' as you think #justsaying

How can I look cool or current in second hand!? One of the things that makes me so passionate about my job is shifting this perception – from my wardrobe to my wedding, I aim to walk the eco chic talk. I can say with 100% certainty that you absolutely will look just as relevant, in fact I think you will look even cooler because your clothes carry a story.

A few simple thrift busters to get you started  A. is for an educated mind– grab a Vogue magazine and see what's trending. Note what you like, screen shot it then take it shopping with you, what you can find that fits the vibe!? Have fun, be creative. Because fashion is so cyclical a lot of the trends have been here before so they'll definitely pop up at an op shop B. is for Be simplistic – start your thrift shopping journey by choosing 3 classic items – a pair of good quality skinny jeans you like, a white or striped tee and a well tailored blazer…and believe me you will find them all. Eco Style Tip – try switching out the buttons for beautiful brass military ones which you may also find at your local thrift store, if not a quick trip to your local craft haven will cure that. C -is for customising – there are so many simple things you can do to elevate an outfit – add patches to a denim jacket, distress your jeans and tees like the one above, embellish a clutch with vintage brooches, get amongst it babe!

People will think I'm poor if I choose preloved! My mum was poor growing up and yet she is one of the coolest most creative women I know. It was this perceived lack that gave her incredible DIY skills and a wonderful ability to see the beauty in even the smallest of things. For real there isn't a thing that lady can't reuse, reinvent or remaster and it all looks straight from a Vogue living editorial. I'm so blessed that she's passed some of her innate skill onto me, just in a different form. I think this particular concern – is a great opportunity to shift your perception. Think of what you'll gain and more importantly how your fashion dollar can help the people who really need it. When you shop at a thrift store your money goes directly towards all the charities programs – in the Salvos case for example that's issues such as domestic violence, homelessness, drug, alcohol or gambling addiction. If you ask me kindness is always in style. A great wardrobe really isn't about the label or the amount you spend, it's all how you see it. I'm as fussy and discerning as the next gal, but I always find gorgeous things in op shops which I am proud to wear.
Op Shop clothing smells! Ok you're right, yes sometimes it does, however its generally nothing more than from being in storage so a simple wash or dry clean and it's good to go. My clothes at home can get this smell sometimes too. That 'moth bally' smell is mostly from vintage or being in a cool damp place and you know what is a fantastic cure for that -sunshine. I found two incredible vintage leather belts recently that had that smell but they were too good to pass up. So you know what I did, I left them on my window cill for a few weeks. It rained, then it was sunny, it rained again and then once more Miss glorious sunshine dried them out for me and the smell is completely gone. From my experience that 'old' smell is being ironed out as op shops become more discerning with what they put on the floor too. They are far from where retro and costumes reign supreme. There is so much good stuff just waiting to be found.
I can find it cheaper brand new on the high street! Sure maybe you can, but really the question is who would you rather give your hard earned money to? A big brand who doesn't take care of its workers nor the environment or a charitable organisation in the business of helping people and the planet…it's a no brainer for me. As humans we really are a wasteful lot, would you believe in Australia alone we throw out 6000kgs of textile waste every ten minutes…crazy stat isn't it and sadly true.
None of my friends are doing it. They'll see me as daggy. Again here, I see an opportunity to switch the mindset around this. What if being different from everyone else meant that you could really be a force for change, maybe that's part of your purpose, to be a style renegade, to teach your friends and family just how cool op shopping really is. Plus once they see how super chic you are looking and how little you've had to spend, I'm pretty sure they'll be interested!
It's too overwhelming, how on earth do I know where to start!? Easy – just take it slow, literally! All you have to do is give it a try, when you have some time go into your local thrift store and look around. Just set yourself the task of finding one thing you really want or need to add to your wardrobe – like a little black dress or a cool band tee. Look only for that. Alternatively hit the accessories section and check out the cute clutches and vintage brooches. These are absolutely fool proof and you can do so much with them. Pin a brooch on a jacket or tee, even add it to the clutch you've found. I always treat thrifting like a normal shopping experience, I'm discerning and particular about what I take home with me. A few years ago I found an incredible ornate sterling silver visiting card holder from 1853 – this is what they used before text messages! It is the perfect size for my business cards and I swear every time I pull it out people lose their mind. It's the most elegant, one of a kind way to make a lasting impression

That's exactly how I feel about op shopping, it's a cool conversation starter that has a sublime style story to tell and I don't see anything icky about that!