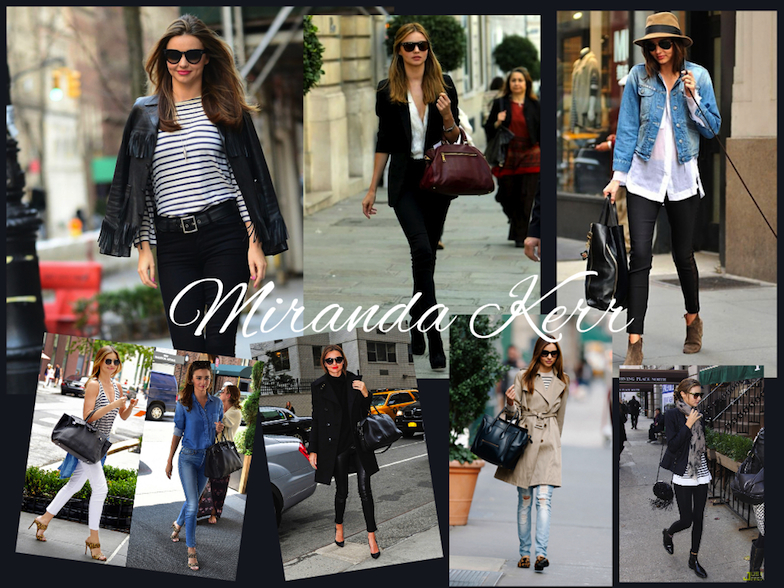 'Man, I wish I could afford to look like Miranda'…we see the celebs and drool over their designer duds, dreaming of one day being able to sport a similar wardrobe.
But here's the thing my little fashion hounds, you don't have to wait for one day, you can have it right now and do something nice for mother nature while you're at it. If you look at the collage above you'll notice that most of what Miss kerr is rocking are the 'Fashion Fundamentals'.
Classics like a leather moto jacket, black jeans, striped tee, distressed denim, the timeless trench, dashes of leopard print, statement bags and shades. I can absolutely guarantee that you will find these items in your local thrift store and they'll probably be great brands too. Use my mood board as inspiration on your next shopping trip and hunt for preloved pieces that match. I would find designer bags everyday at the Salvation Army in NYC but if you can't at your local, look for items that have a designer aesthetic, like this one I found here in Sydney for $10.
I swear I wish I had a dollar for everytime someone commented on my 'designer' bag 😉 Then try adding bag charms, tassles and faux fur trims to really luxe her up. Alternatively invest in accessory items that you will keep for many seasons to come and team it with your thrifted finds. I like to call it conscious cool. To prove my theory I took one of my friends shopping at the Salvation Army here in Sydney. Julieanne is a TV producer and loves MK's vibe so I showed her how to snap it up for a whole lot less…super simple, super eco chic.
The wardrobe is easy people, the yoga body and Victoria's secret contract, well that one is up to you
#FashionHound