On a Surrey Sunday morning I opened my sleepy eyes and to my surprise the snow fairies had turned our gorgeous garden into Santa's workshop! I seriously felt like a little kid in a(frozen) candy store. Ever since I started FashionHound I've wanted to 'FashionHound' myself…so how could I not collaborate with mother nature on this crazy cool backdrop. Such a gift – especially since I've never seen snow like this. The 3 ultimate items in my wardrobe are my Dad's vintage jackets from the 70's – all bespoke, all beyond cool and still bang on trend to this day. A true testament to my favourite era and a wonderful way to wear my family's fashion story… my way. A special shout out to my Aunty Zena for hounding me at 'Magical Aunty Land' and big love to Uncle Ian, Becca,Vicky, Giulia and of course the ultimate Fashion Hounds – Jack and Fletch. Funny how everything goes with snow. This is my style story – enjoy x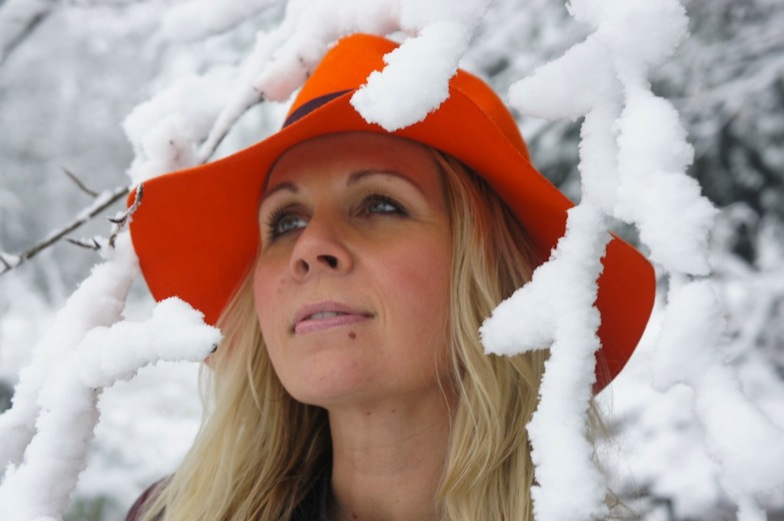 Hermes orange without the price tag – I picked up this super 'haute' hat at Top Shop for 4quid – how amazing does it look against the snow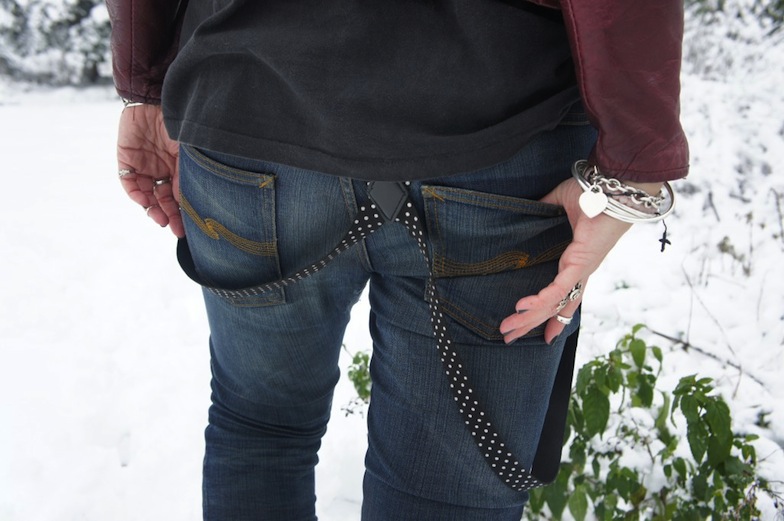 I'm really feeling braces at the moment – I love adding unexpected masculine elements to my outfits. Found these ones for $4 at The Quality Mending Co in Nolita, NYC. You'll see spots everywhere soon – I think this a fun way to rock the trend in a new and original light.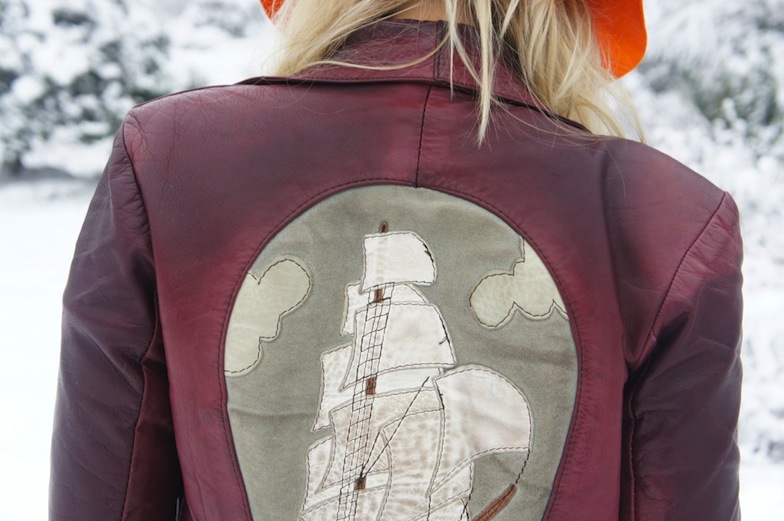 Drum roll please – how beyond is this jacket…my Dad bought it from Glam Rock store ALKASURA on Kings Road…Mark Bolan from T-Rex and The Faces were regulars.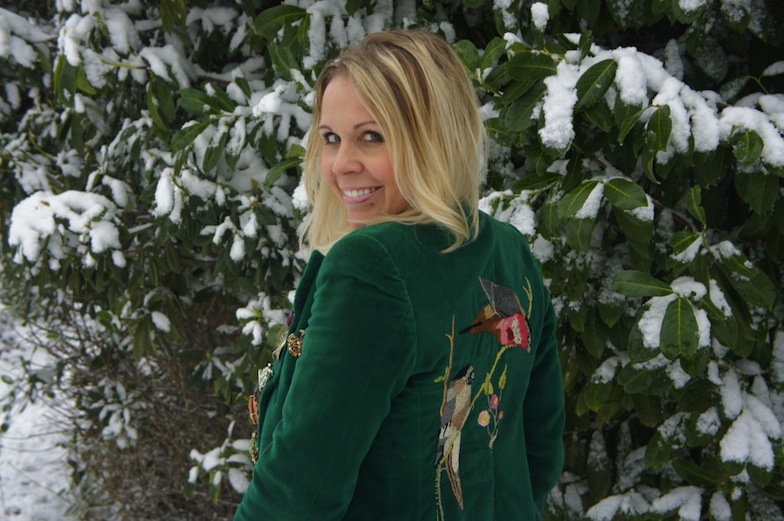 Where do I begin with 'Lady Green' – Bespoke emerald velvet tux, tailor made by Tommy Nutter on Carnaby Street. His clients included Mick and Bianca Jagger and Elton John. On their Abbey Road album cover Tommy dressed 3 of the four Beatles. The cut is so sharp you could slice bread with it and the back – hand embroided by my Mumma in the 70's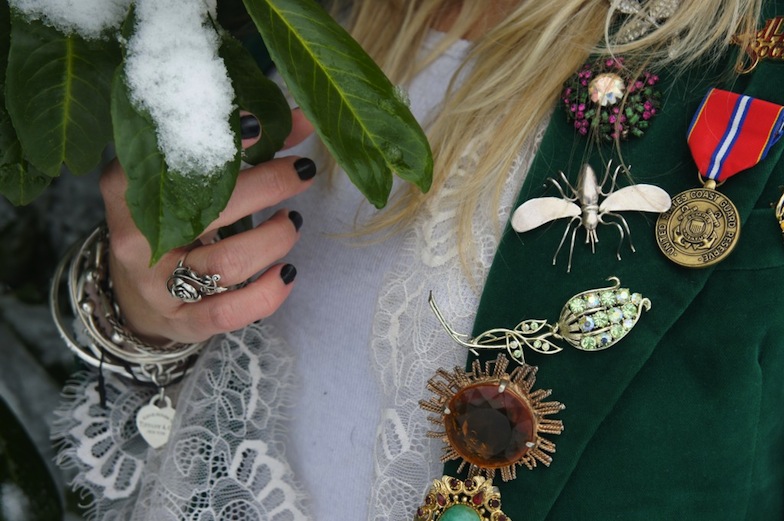 I once heard the boys from label Dsquared say 'Less is more but more is never enough'…I feel like that's close to my aesthetic…I love 'organized eclectic', eye catching detail, conversation starters…all these brooches are vintage and a lot came from my beloved Aunty Zena, others I have found on my travels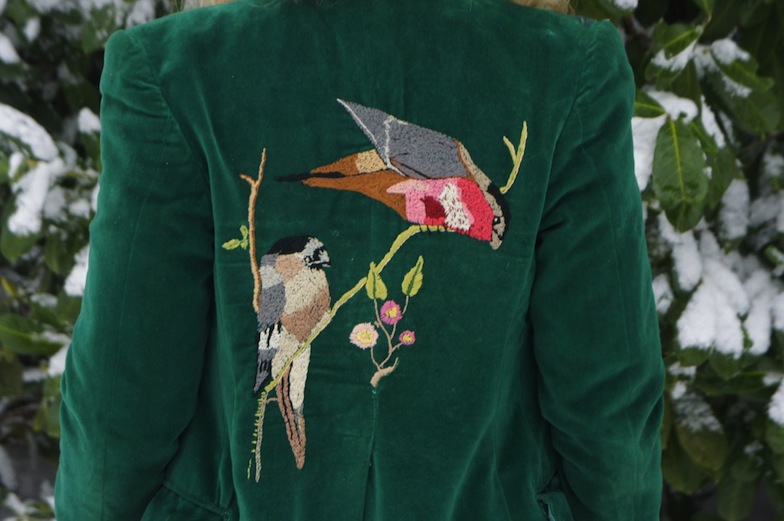 I feel so special everytime I wear all these pieces – like I'm carrying my family and my story with me… Dad loves that I wear them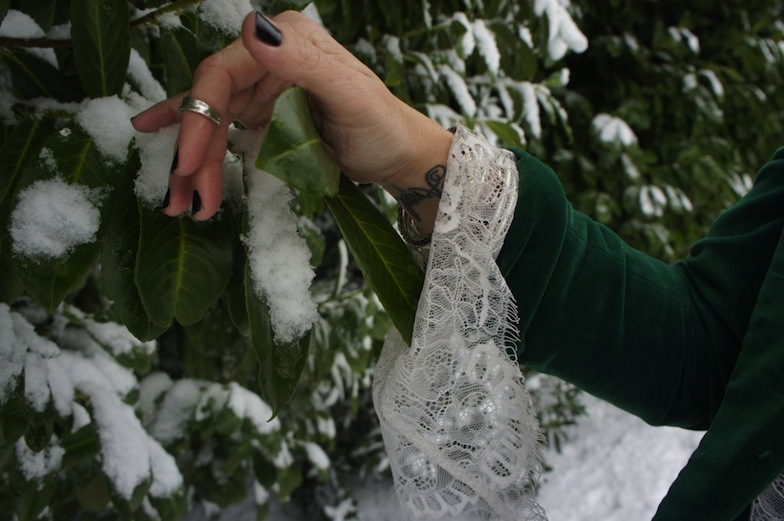 My Dad was a glam rocker and my Mumma was a bohemian BIBA babe…I really am their style love child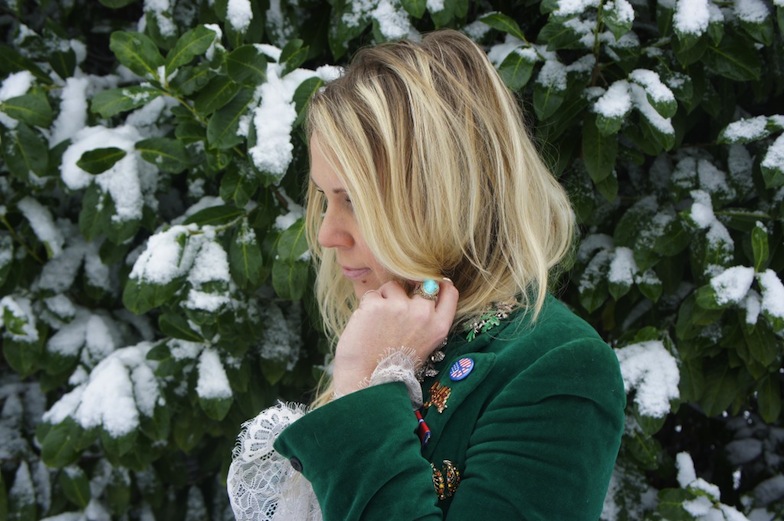 My family has always instilled style in me – not just what I wear but also the way I see things and the way I behave – I really believe in following your own beat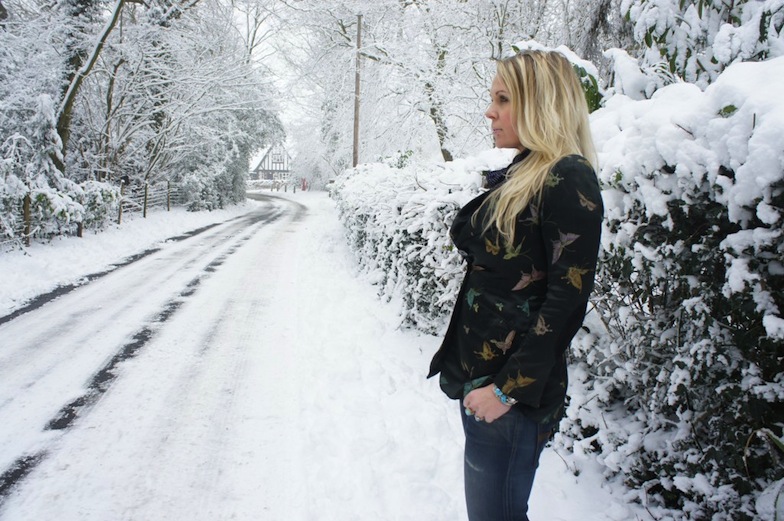 Oh my Butterfly! This is an original piece from famous 60's/70's store 'Granny takes a trip' – Keith Richards also has one of these…I have had so many people offer me money for this jacket but I could never let her fly away.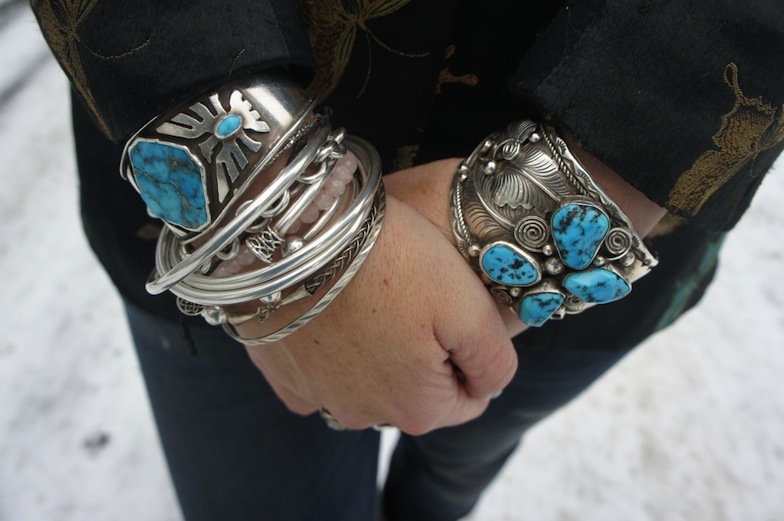 Turquoise is a big trend in my family – the Navajo cuff on the left is Aunty Zena's along with her bangles and some of my Mumma's too. The Navajo cuff on the right I found in NYC at one of my favourite stores in the world– 'Western Spirit' in Tribecca – I searched for years to find one like this, so it's very special. I am strangely drawn to the American Indian culture – their beliefs, culture and style is so beautiful to me.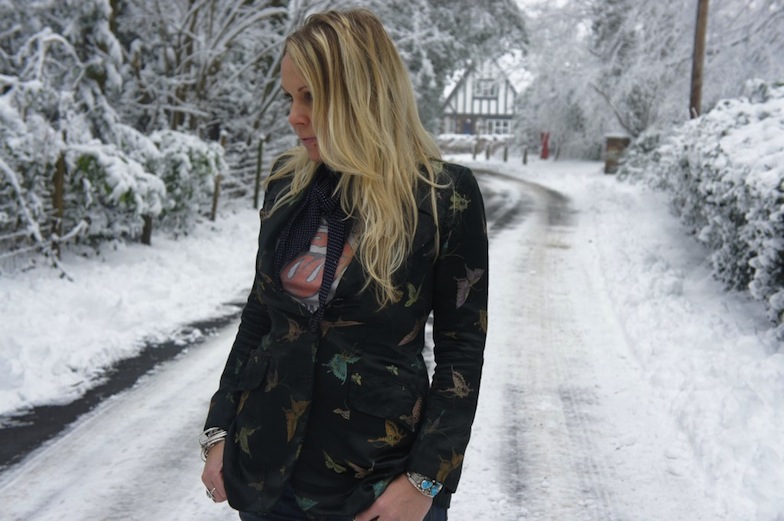 I Love a rock tee – this Stones one I found in LA about 8 years ago. I'm also very partial to a vintage scarf or cravat – found this spotty one in Brick Lane for 1 pound! Very Hendrix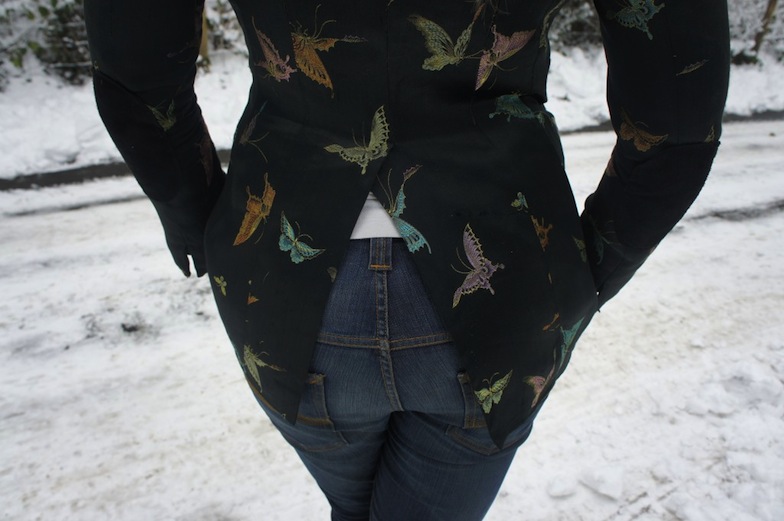 Sublime silk and sweet butterflies – a fashionable reminder for me to always fly free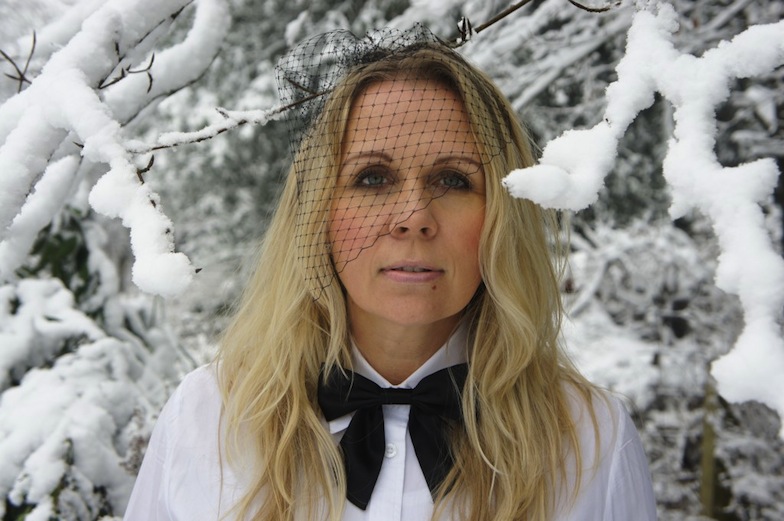 Fashion wildcard! Just couldn't resist shooting this look in the snow Fascinator veil I found for $1 on Fashion Ave in NYC and my bow tie I picked up for 99p on a charity shop hunt with my Aunty – just goes to show you, you don't have to spend much to have a style all of your own. Sing it your way x