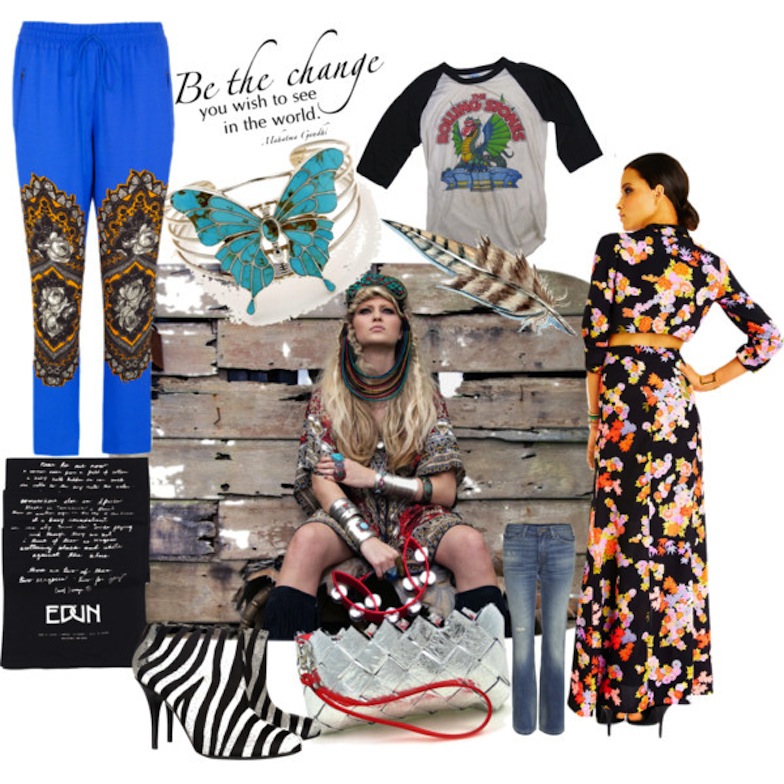 I spy with my little style eye some very tasty eco treats! Served up for your shopping pleasure is my pick of what's really saucy, sustainable and ready to shop right now. Each piece I have selected is current season and from a label that engages in a more conscious production or brand ethos…so really it's a win win fashion kids! Read on for a snap shot of each brand and be inspired.
Disclaimer: Please note this list is not in order of preference – that would be like picking my favourite puppy! But I do however promote the wearing of all items…in fact I can see many a sweet ensemble with said pieces. Dress with boots, tee with jeans, clutch with pants, turquoise cuff in the buff…have I said enough!?
Reformation is an environmentally sustainable NYC brand that I've cottoned on to recently (yep punn intended). These clever kids repurpose vintage and surplus materials to create chic, limited edition pieces. This devine kimono inspired dress makes me wanna get my 70′s it girl on so bad!
Anyone that knows me understands that a Vintage Stones Tee or any of it's vintage rock tee related cousins for that matter can invoke a serious fashion heart attack pour moi. It's a sartorial staple in my style book and this one from What Goes Around Comes Around is killer. Call me a 'Glambulance' now.
So loving these electric blue 'stem' huggers from Stella MacCartney and they've got side zip pockets to boot. Stella is certainly a trail blazer in the sustainable style space, she doesn't use any animal products or conduct any testing and is heavily involved in environmental practices in production and throughout her business – in fact in 2011 her label diverted 14.4 tonnes of waste from landfills which she recycled and re-used. These saucy little Zebra booties are from Stella McCartney too but be quick because they are on sale people! Safari so good-y!
Why buy a new pair of jeans when you can look as slick as f**k in a Vintage pair of Levi's from mytheresa.com They don't make 'em like they used to!
Edun Poem Scarf. Edun is the label founded by U2′s Bono and his wife Ali – it was born out of a commitment to encourage trade with Africa. The proceeds from this pretty 100% cotton scarf are sent to support the Horn of Africa drought relief efforts.
The Ecoist recycled candy wrapper clutch – eco confectionary genius right there. Ecoist is an amazing American brand that recycles chocolate wrappers, chip packets, soft drink bottles, cans and ring pulls into pretty little style pieces. Sweet! 

Main picture Bohemian clothing and jewellery from Tree of Life  and Tree of Life Butterfly turquoise cuff. I have been a huge fan of this Aussie label for years now…it rests peacefully in my gypsy fashion heart – a haven for beautiful bohemian things and with an ethical mindset for manufacture and trade, tree of life makes me a very happy Fashion Hound.
Go get your eco on gals
-Faye x