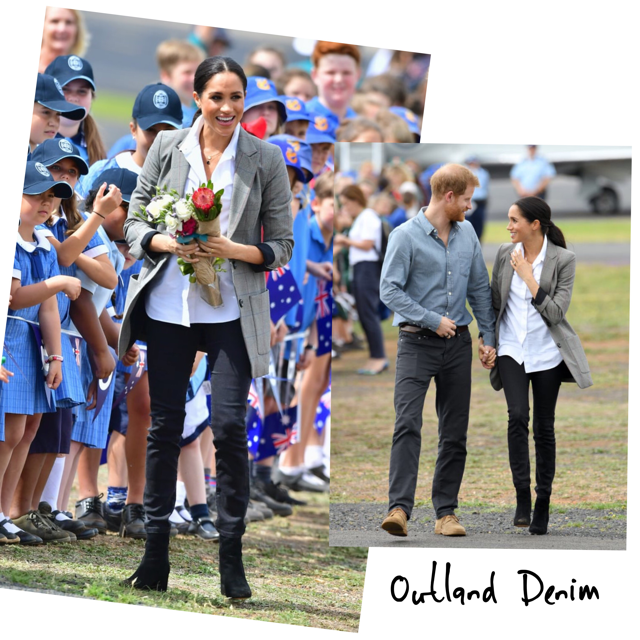 Fashion has the power to be an incredible force for good. It can help, heal and transform the forgotten, downtrodden and the ones who find it hard to speak. As individuals we can vote with our fashion dollar to make a difference and believe me just one purchase can completely change someones situation, when you realise this – ethical and eco chic is a no brainer. So it was incredibly exciting yesterday when the divine Duchess of Sussex decided to sport a pair of outland denim jeans on the Royal Tour stop in Dubbo.
This heartfelt brand stands for women, their rights, their protection and progression, a belief that is also very important to the Royal Mumma to be. Founders James and Erica Bartle and team know all their seamstresses by name, ensure they earn a living wage and are given support to build a brighter future for themselves. These Cambodian women are the reason Outland denim does what they do.
To add to their awesome, Outland Denim are committed to sourcing the most environmentally friendly fabrics and raw materials, including elements like organic cotton pocket linings to recycled packaging, the jean team is also extremely transparent with their supply chain and production process.
The 'Meghan Effect' was in full swing yesterday with the 'Harriet' jeans she wore selling out within just a few hours…which not only puts Outland Denim on the map but it also means more of these Cambodian women are being heard.
I've loved these jeans for a while now and I love even more how I feel when I wear them, carrying the story of these women as I walk.
Be part of the global movement towards a fashion industry that promotes human dignity and leaves a positive imprint on the earth, because every girl deserves to feel like a Duchess!