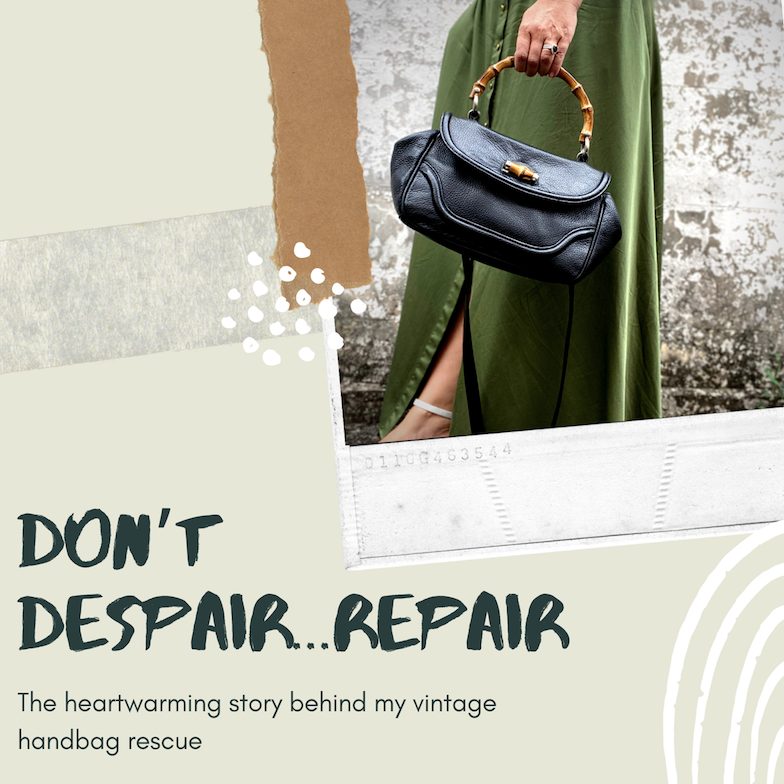 I try not to get too attached to material things these days but oh my the thought of losing this beautiful vintage bag was a tough one.
You see, we met when I first began my beloved role as eco stylist for Salvos Stores 7 years ago.
It was like she was waiting for me in all her designer inspired glory to confirm my deep seated belief that second hand could be seriously chic and that I could create a purpose driven job around such a knowing. Back then sustainable style certainly wasn't a hot topic like it is now, in fact a lot of people thought I was a little nuts… but I could see it, thankfully the Salvos could to and so we began. This bag came with me to many a meeting as we crafted the concept of eco styling our stores, she supported me on my very first op shop event, boutique opening and even our fledgling Today Show alliance. She's elevated an enormous amount of my ensembles and stopped many a stylista in their tracks to salivate over her Gucci-esque vibes.
Despite her $10 price tag she looks a million bucks to me. Carrying her always makes me feel like that too, a one of a kind cool. She is proof that it's really not about the label and I love that.
So you can imagine how my heart dropped when her cute little bamboo clasp came apart at an eco fashion event last year. I visited every boot maker in town, sadly they all told me her time had come. However, I wasn't having it, there had to be a way to save her from the scarp heap. Determined to get my don't despair, repair on, I wasn't going to stop until I found a solution.
Praise be to my preloved tenacity and the google fashion gods I finally discovered SOLE HEELED
Seriously they saved my second hand life. Mark and the team were incredibly helpful, understanding and really went above and beyond to help me. My bag wasn't easy, taking us a little bit of back and forth to get it sorted but they stayed with it instead of saying it was too hard like all the other boot makers and repair merchants did. I am so happy to be back with this beauty and just in time for my big trip to NYC too!
Check out the super easy process below, PS they also do boots. I could not love Sole Heeled anymore if I tried and what's even better is that by repairing we are keeping our beloved accessories in the loop and out of landfill.
Now that's a love story if you ask me!