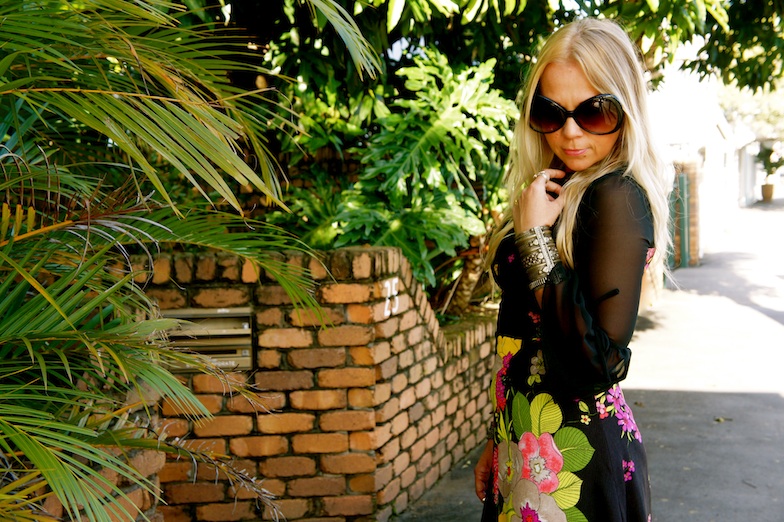 It's one of a kind, cool as f**k and has a great story to tell however shopping vintage can be a little daunting, I dig that. So here's a few things I have learnt along the way
1. Touch me in the morning and last thing at night. Touch the fabric, feel it, train your eye to know good tailoring and craftsmanship. Gorgeous worn in leather, soft silk, yummy vintage velvet, cool crepe… take the time to learn about and look for the gems.
2. Quality time. Buy good quality stand out pieces that you know you will wear. A classic tuxedo jacket, a distressed denim jacket, rugged rock tee or killer 70′s black disco frock. Mmmmm Hmmmm 

3. Light work. Hold the garment up to the light my friends. Look for flaws, stains or excessive wear. Obviously there will be an element of this as the clothing is preloved but don't buy something that you know won't last.
4. Arm Pits People! Check the arm pits. We didn't always have deodorant and acidity in our sweat can really ruin fabric.
5. Don a uniform fashion soldier. Wear something that is easy to slip on and off – a button through dress is a goody!
6. Pow Wow. Talk to the sales assistants. People that work in vintage and second hand stores are generally pretty cool cats who are very passionate about the genre – get into a rave and expand your vintage know how.
7. Buckle up buddy. Check the buckles, zippers and buttons. A mistake I've made along the way and once home I've realised that the garment is kinda buggered!
8. Size don't matter sexy. Sizing is totally different today, a size 14 in the 50′s can be like a modern day 8 so just throw all those numbers out the window, whatevz! If it works it works, end of style story.
9.Your way or the highway. Check out the trends then tell the story of the catwalk your way. How can you take what's happening on the runway and give it your interpretation? I so enjoy this. If I find a look in a magazine or online I like, I take it with me and see how I can recreate it with vintage or second hand clothing. Also, look at style icons of the past and copy and paste. Bowie, Jerry Hall and my beloved Robert Plant are great style go to's.
10. The Body. Know your shape and what suits you. Don't be squeezing into a slinky leather skirt if you ain't feeling it. Trial and error, try things on, experiment, play my pretty. Also remember that things were smaller back then, it wasn't that second helping sista!
 Thanks to my Dad – Micky D – for the great pics x