The way she cooked, crafted and captivated me during story telling time…the i's dotted with attention to detail and the T's elegantly crossed. Even the smallest of things were given the royal once over – from forgotten to fabulous…it was all done with love.
I may not have realised at the time, but I see now Mumma was and still is my mindfulness muse.
Where Mumma takes it next level again is with her gift giving. It's impossible to wrap a heart as big as hers so it beats outside of her body in the love she bestows on you.
Beautiful thought, sublime sentiment and all created by the sweet lady herself. Mumma will grow it and gorgeously customise it with her eco goddess given talent. You just can't buy a present like that…for her soul is present the entire time she is conceiving it.
Take our wedding for example, two months before the big day when I was already crying at everything, including Qantas commercials (seriously those scenes where families and loved ones reunite at airports should be illegal for brides to be!)
Mumma informs me that she's been saving leaves and flowers from her garden, for a YEAR, to make our biodegradable confetti…I'm mean c'mon my heart couldn't cope. She even sourced a butterfly shaped whole punch to seal the deal. Our guests were so touched by these bespoke little parcels, that they didn't want to part with them…turning them into a timely keepsake instead!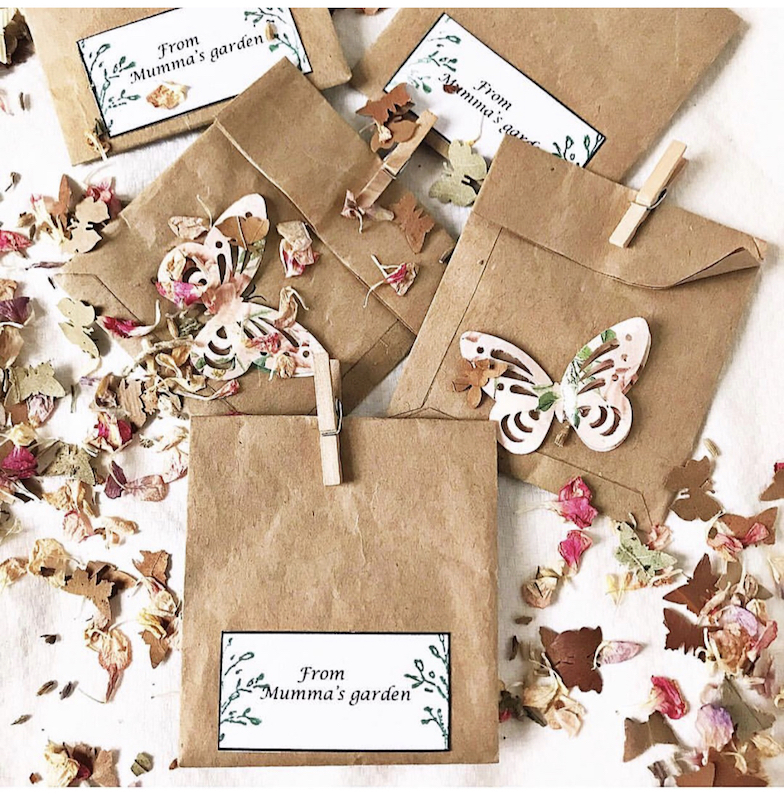 Christmas time is done with the utmost care too, with Mumma giving my sister Sarah and I the most divine stockings filled with handmade made goodies grown with love from her garden…fresh dried rosemary for cooking and even her own branded tea, which by the way is delightful.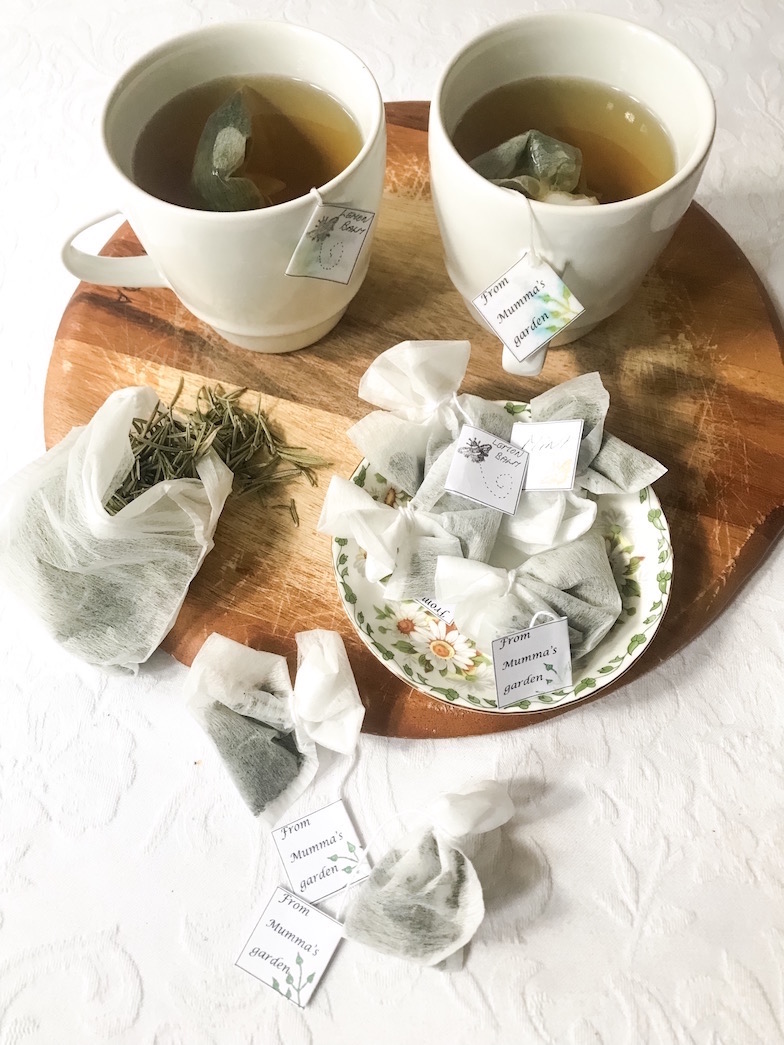 Slow fashion has blessed me with much more than just a conscious closet…this ethos has unexpectedly leaked out into so many other layers of my life…its helped me develop a mindset based around awareness and the flow on effect of our choices, including slow giving! Which I'll be honest I didn't really realise I was doing, until you my fantastic followers, showered me with support on my first wedding anniversary idea…ONE YEAR OF DATES. Traditionally you give paper so I wanted to do something poignant. I first saw this idea on Pinterest and adored it, deciding to make it my own. One of the many lovely things about slow giving is the personalisation you can add to your gift, which really shows the receiver how well you know them and the precious time you took. My husband is very strong and masculine yet a gentle man of the earth so crystals of course had to be a part of it, I chose 7 clear quartz to represent his lucky number. I made sure the box was special too, nothing too girly, something that could make this a display piece in our home. I actually hunted for over a week and the last store I went into when I wasn't sure if I was going to find anything had the perfect glass and copper offering. I bought brown paper invitation cards and brainstormed 12 adventures that were more about spending time than splurging, picnics, hikes, dancing, taking a detour and of course romantic delights too ;). Lee isn't one for a big reaction but I could really tell he thought this was beautiful…having asked me twice already if he can open February early.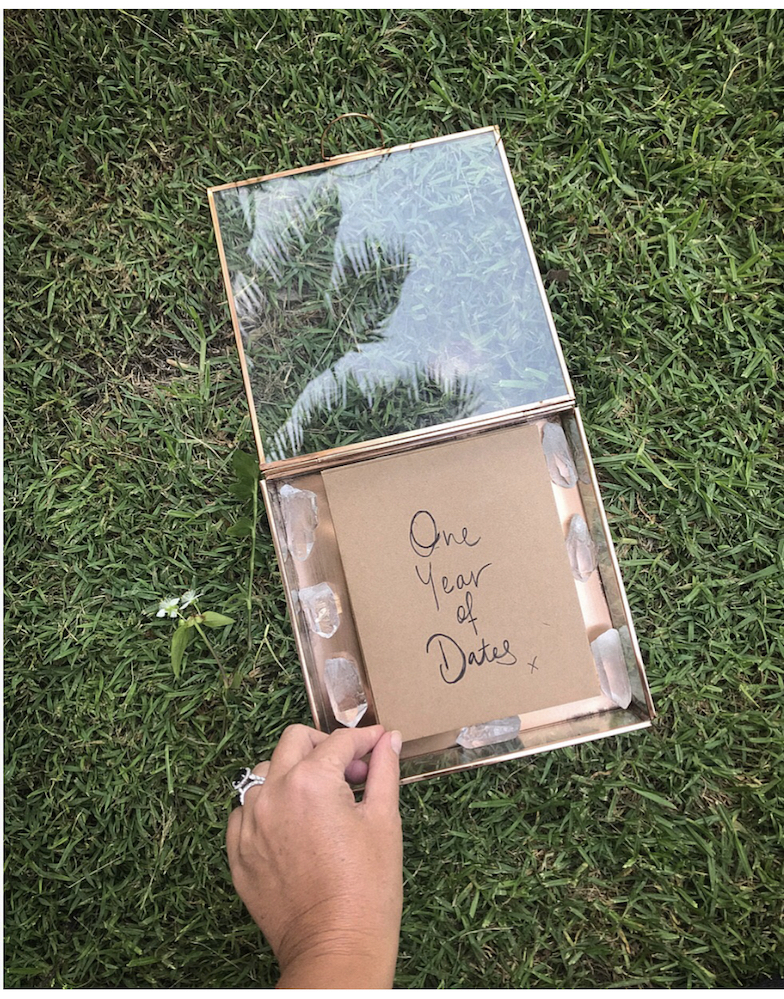 To return years of selfless service, I crafted this slow Christmas gift for Mumma. 52 reasons why I love her, one for each week of the year. I thrifted the glass jar and cut up brown paper into little palm sized notes. I took my time, over a week or so writing all the reasons and honestly it filled me with so much gratitude. That's the thing about slow giving, its a gorgeous present for you too! I tied each one with twine so they look like mini scrolls and every Tuesday Mumma sends me a text of the one she's unravelled. It's a beautiful bond we can share for 2019 and I'm so glad I slowed down to create it. What I love about all these ideas is that they work at any time of the year, they have a timeless and touching appeal. Even if it's 'just because' I think you'd be hard pressed to find a person who isn't moved by them.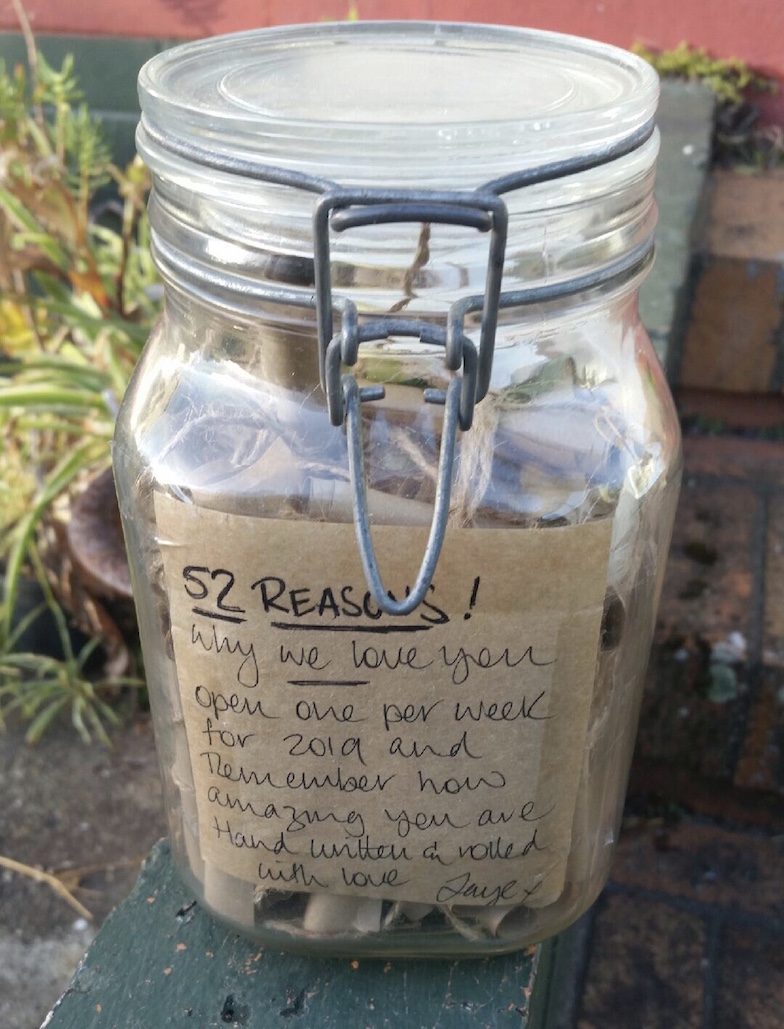 Slow giving of course applies beautifully to the nature of second hand shopping…particularly thrifting. You give clothing, furniture and homewares another chance at life, give a leg up to your local community and give to the mission of a charity which is why i adore my job so much…it's all about giving, in any given moment!. It never ever has to mean sacrificing style either, in fact I take great pride in making all my slow gifts super stylish..natural tones, elements of mother nature (think feathers, flowers, green cuttings
The other element that has stood out for me around my musing on slow giving, is that we must also remember to give to ourselves. Take time out to do something that brings you pure joy, put the breaks on and really relish every moment, breathe it in. A massage, meditation, a long bath, your favorite activity like yoga, walking, weights, watching a sunset, hell just give yourself a hug and say well done… whatever it may be do it with as much thought and love that you would gift to others. My meditation teacher always says, we must fill ourselves up first before we can give to others. When you do that, watch how your life expands, gifts of abundance, opportunity, clarity, kindness, synergy, serendipity will all show up. Give to community, give time and thought to my loved ones, give back and give in, to give way to surrender, see the blessing in it all.
Presents that bring you presence are the greatest gifts of all don't you think!?