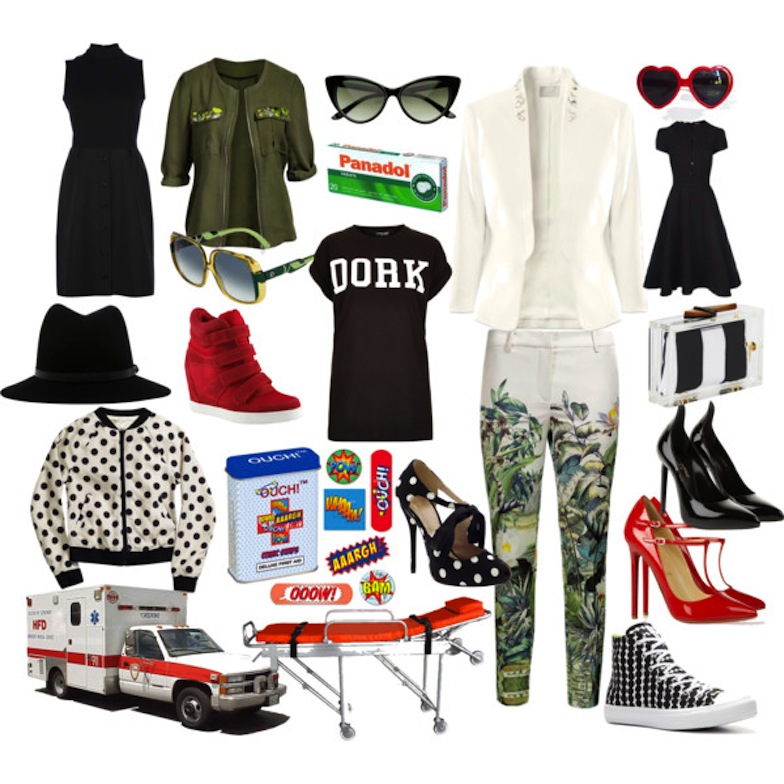 Light the style torch and do a lap of honor, for the Fashion Olympics are upon us people aka MBFWA
Now while it is a super exciting time for a kid like me it can also be an epically exhausting race. Relentless air kissing, aching feet, an overdose of amazing clothes, it's enough to give a girl a fashion stroke! But don't worry I've got your airbrushed back. Follow the guidelines of my Fashion Week First Aid kit and you'll get to the finish line effortlessly. Ok that's kind of a lie but at least it will help!
Let's talk clothes first!
Spotted -so loving this trend | Bomber jacket H&M conscious collection | Floral pants H&M conscious collection | White Jacket H&M Conscious collection | Army jacket H&M conscious collection | For bad hair try a Hat Rag and Bone | Red Wheels Aldo | Green shades vintage Playboy will hide the bad fashion bags | Black cats eye shades Vintage will do the same | Dork Tee Top Shop for a little fashion humor | Black Sleeves Dress Vintage Prada | Black Tea Dress Vintage | Red heart shades Etsy | Lucite Clutch Alice and Olivia can also find awesome ones here | Black pumps Saint Laurent | Red Dorothy Love via Christian Louboutin| Polka dot chucks Converse
Medical supplies: Panadol for fashion pains in the arses and also pains in the pedi region | A Glam-bulance and a stretcher for when you see hot fashion and have a heartattack | Bandaids for burning and blistered tootsies but ones with personality are always of preference, especially as smiles may not come easy past mid week! May the fashion force be with you and your nearest Glambulance on speed dial x