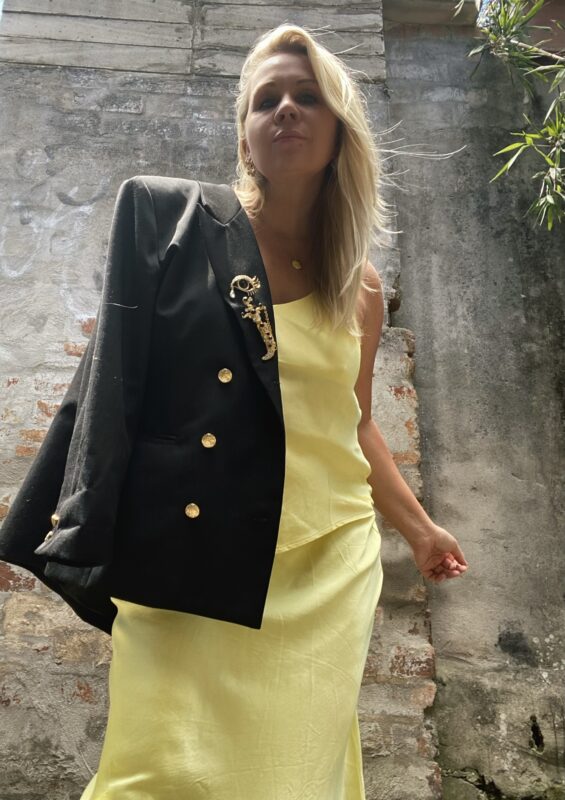 T'IS THE SEASON….to be excessive…but you kn0w what you don't have to be.
Behold my 7 tips to SLEIGH Christmas SUSTAINABLY
1. MAKE A PRELOVED PROMISE 
Did you know: Every Christmas Australian's get over 20 million unwanted gifts!?
Thrift shopping not only does wonders for your back pocket, its also a profound choice for people and the planet. Thrifting diverts textile waste from landfill, supports the work of a charity and empowers your local community. Yep, as consumers we can create great change with our shopping habits. There is an abundance of beautiful gift ideas just waiting for you in your local op shop. So why not make a preloved promise for the festive season, shop for yourself, your home and your loved ones at a hub like Salvos Stores.
2. ONE OF A KIND GIFTING COOL 
A resounding reason why shopping second hand for the festive season is such a serious vibe is because it gives you the ability to gift uniquely and with heartfelt sentiment. Muse on each person you'd like to spoil this Christmas and craft a gorgeous one of a kind gift. Take my husband Lee for example: he loves unique prints, silk cravats, sharp hats and shoes, feathers, crystals and seriously anything to do with Elvis or Bruce Lee. So I could thrift him a great vintage tee of one of his icons, wrap it in a silk scarf instead of traditional wrapping paper, tie with a crystal pendant and finish with a feather. It's a present within a present and shows I really know who he is.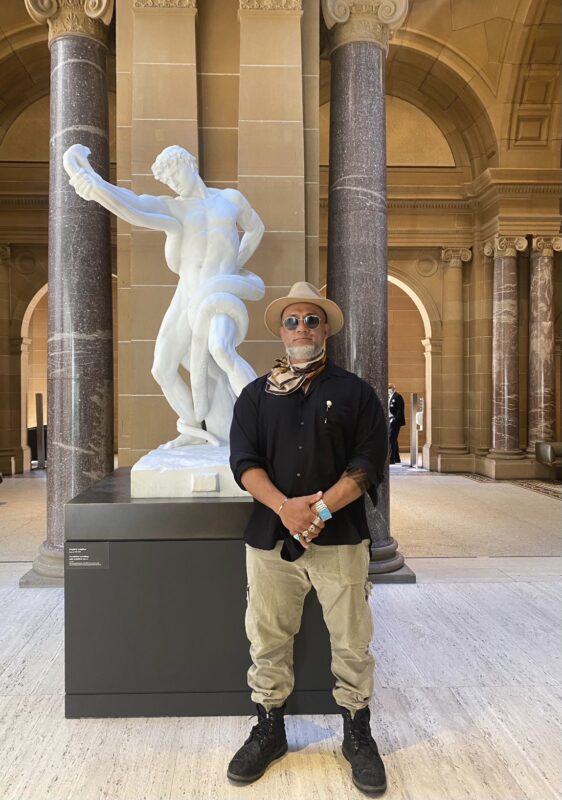 3. SAVE YOUR FEET AND GET FESTIVE FROM YOUR COUCH 
Avoid the crazy crowds and trying to find a car park in mainstream shopping centres and sort your Christmas gifts from home…yep you can thrift online!
No one to bother you, take your time, add potentials to your wish list and purchase when you're ready. There's lots of great deals, designer for less and luxe ideas for home too, which brings me to my next point.
4. HAVE A MERRY THRIFT-mas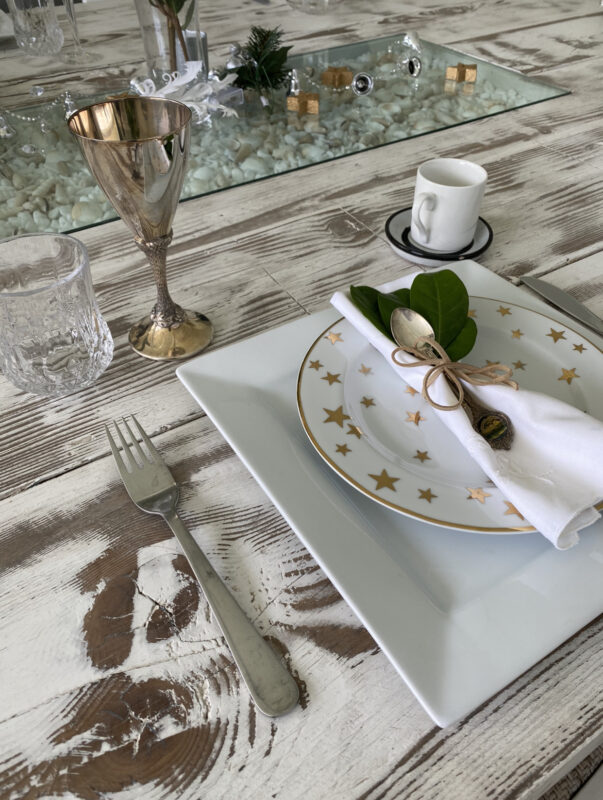 This is a glimpse of a table setting I created using items found in a thrift store. There are so many gorgeous second hand options available to create a show stopping dining experience and you don't have to spend a fortune. While its rare to find matching plates and cups en masse, to me that's what makes it even more beautiful. Let the thrift gods surprise and delight you and become your own designer.  Be inspired by boujee homeware stores and style up a merry THRIFTmas for your loved ones, add in fresh cuttings from mother nature to seal the sustainable deal.
5. FROST YOURSELF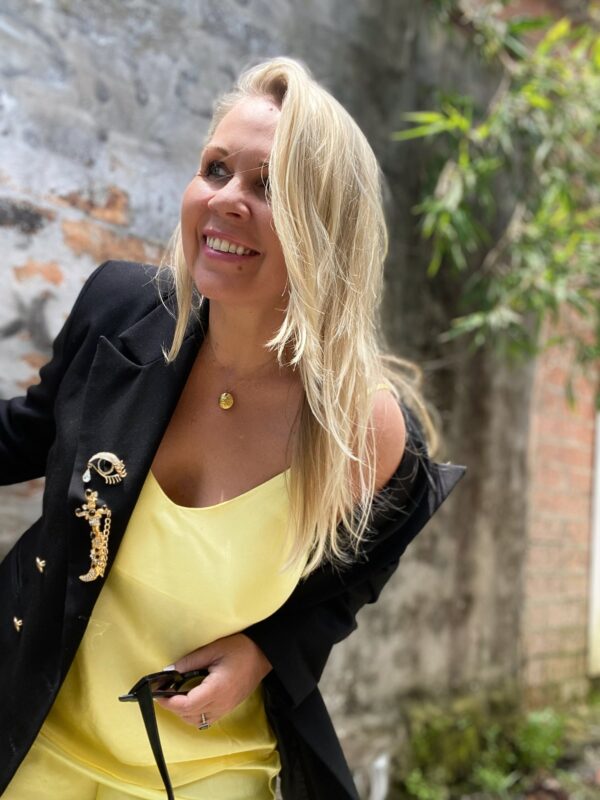 A super simple way to SLEIGH your festive style is with luxe for less
First and foremost…BROOCHES give you so much bang for your buck, they look the biz and really add something special to classic items like a tailored blazer with gold buttons.
Secondly choose natural fibres when you can. I found this divine lemon silk set for $20 at Salvos Stores online…yep $20! Its minimal effort yet maximum impact, the way these kinds of fabrics fall look so lush.
Fine gold chains from @shopportunityvintage are a great way to add a splash of re-loved designer frosting and I add bling to my bags too.
Both these chains were less than $2 from the jewelry section but atop an already gorgeous vintage handbag, it says expensive if you ask me honey!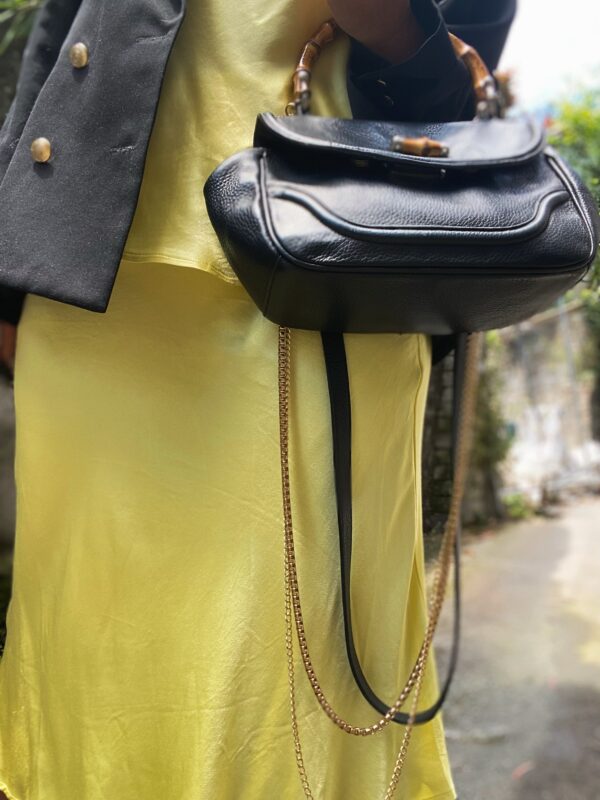 6. SUPPORT ARTISAN CULTURE AND SMALL BUSINESS 
Fact: Did you know that when you buy from a small business, someone, somewhere does an actual happy dance!? True story.
Especially after the year we've had, now more than ever its a beautiful thing to show your love for the small 'guys'
Explore what craftspeople might be in your area, candle makers, green beauty, pottery, embroidery and monogramming.
Visit local Christmas markets or jump online to portals like ETSY for hand crafted one of a kind gift ideas.
Find independent vintage stores and second hand re sellers via Poshmark or depop. Consider the rental and consignment space too. my sweet friend Emily has a great zero waste clothing store called Ekoluv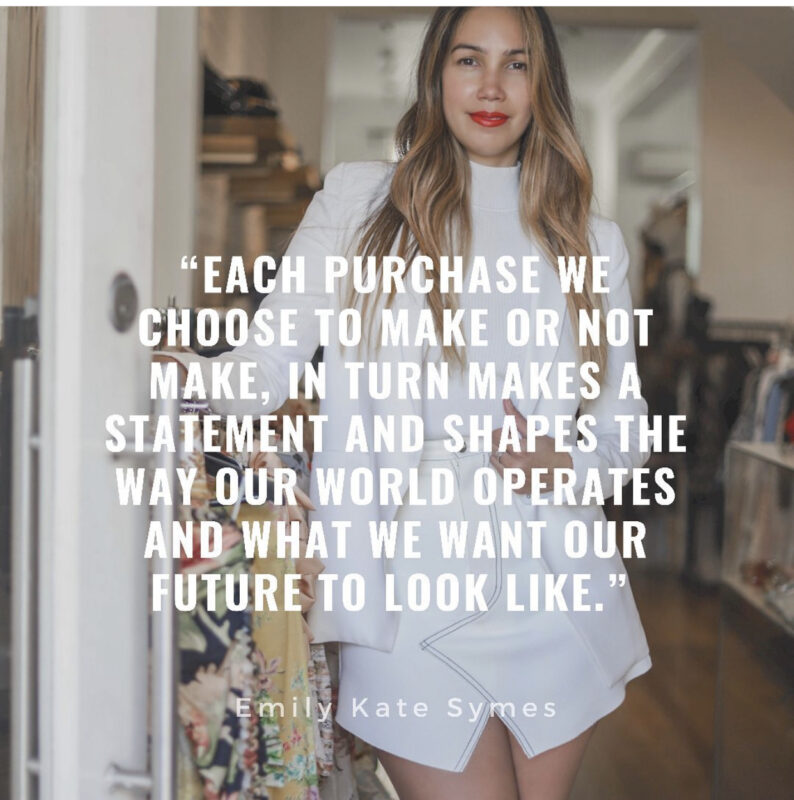 7. GIVING BACK IS THE NEW RECEIVING 
Much abundance abounds when bestow those around you
Feed your soul
Fill another's cup and
Feast on the joy it brings.
How often do we spend $10 without much thought…well that $10 could provide a meal for someone going hungry this Christmas. It's not just about food either, providing a sense of community, a place to belong, even shelter are all vital too, especially at this time of year when many are alone or have nowhere to go. Salvos Stores 1000 meals in store campaign is such a simple way to make a huge impact this festive season, ask at the counter.
Regardless of where you are, you can also donate good quality items to a charity, this in turn helps them continue their important work or maybe you have time and would like to volunteer. Trust me, giving is good Christmas karma, who knows what the elves might drop at your door!
Now go SLEIGH my mindful friends xx